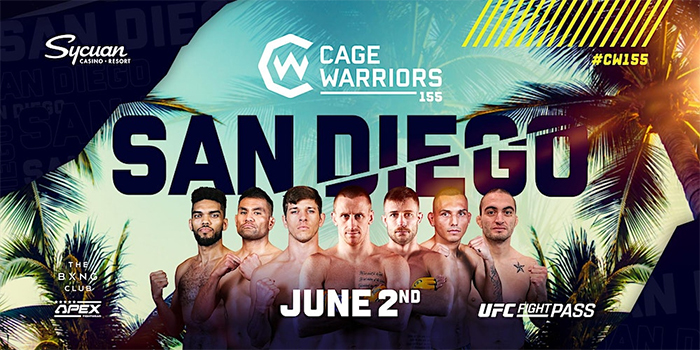 Cage Warriors 155: Lynch vs. Driscoll (also known as Cage Warriors 155: San Diego) is a mixed martial arts event to take place on June 2, 2023 at the Sycuan Casino Resort in San Diego, California, United States.
Fight Card

Main Card (UFC Fight Pass)
James Lynch vs. Kyle Driscoll 155 lbs
Roberto Hernandez vs. Moses Diaz 145 lbs
Damon Wilson vs. John De Jesus 145 lbs
Connor Wilson vs. David Lòpez 125 lbs
Jovidon Khojaev vs. Sunni Imhotep 155 lbs
Preliminary Card
Frans Sormin vs. James Settle 135 lbs
Elijah Harris vs. Chris Lewis 265 lbs
Anthony Orozco vs. Jeremy Fattorusso 170 lbs
Teddy Adlington-Stringer vs. Bryant Shell 155 lbs
Fran Breen vs. Enrique Montalvo 125 lbs
Jon Saragih vs. Johnny Gill 135 lbs
Background
Following a sold-out debut at the Sycuan earlier this year, the brand with the famous yellow gloves is set to return for another blockbuster night of mixed martial arts on Friday, June 2nd."

Driscoll last saw action in a highly competitive 155lb title bout with current champion George Hardwick last summer. Known for his strong wrestling base, Driscoll shocked the world with a striking-heavy gameplan, bloodying-up Hardwick before ultimately falling to a patented 4th round body shot.

Regardless, the AKA man displayed another string to his bow; future opponents will have to be just as warry of getting busted up on the feet as they will about getting ground down on the canvas.

First in line in line is San Diego's own Jamey Lynch.

'The MMA PA' went into March's CW 149 co-headliner looking to right the ship against feared Russian knock-out artist Georgii Eivas.

Lynch was able to dominate proceedings with his superior grappling en-route to a comfortable points victory on the night, much to the delight of the Sycuan crowd.

On June 2nd, he'll be looking for a repeat performance in a bout that could well prove pivotal to the future direction of the lightweight division!


The Return of The Nomad

One of the biggest 'value for money' fighters on the CW roster, Damon 'The Nomad' Wilson, makes his return to the CW cage in a mouth-watering clash with 26-bout veteran John 'Platano' De Jesus.

Wilson got back on track last time CW touched down in San Diego, outpoint an awkward Shawn Johnson over three rounds at CW 149.

It marked his 6th professional victory (and only the first since his debut to go the distance), and set the San Diego-based scrapper up nicely for what will no doubt be an electrifying clash with De Jesus in two weeks time.

'Platano' comes into the 145lb title off the back of a 'Fight of the Night' performance against Roberto Hernandez back in March.

He may not have added a tally to the win column on the night, but the barnstorming performance left fans talking long after the final bell.

Anything can happen in MMA, but the chances of this one ending up a snoozer sit firmly between 'slim' and 'none'.


The MMA Fight Academy

After a successful outing on Cage Warriors' recent event in Italy, another cohort from the inaugural class of The MMA Fight Academy will be in action on the undercard of CW 155.

The MMA Fight Academy charts the ups and downs of an elite squad of MMA fighters as they find out if they have what it takes to compete on the world stage.

One of the UK's most accomplished amateurs, Teddy Stringer, will make his professional debut repping The MMA Fight Academy, while Conor Wilson – a teammate of UFC superstar Paddy Pimblett – will also see action alongside multiple Academy teammates.