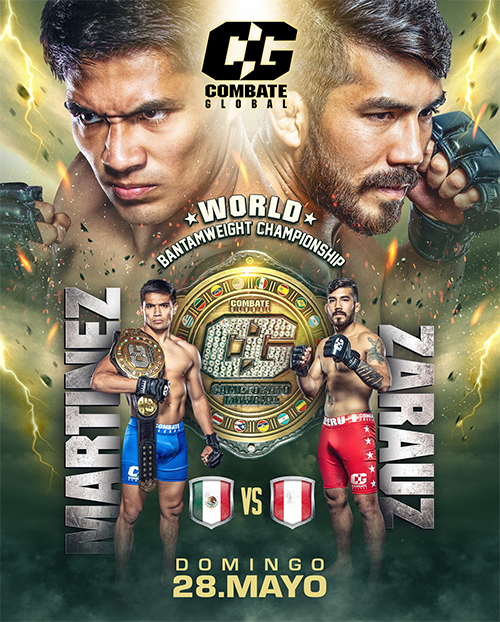 Combate Global 67: Martinez vs. Zarauz is a mixed martial arts event promoted by Combate Global that is to take place on May 28, 2023 at the Mediapro Studios in Miami, Florida, United States.
Fight Card

Main Card
David Martinez vs. Jose Zarauz 135 lbs
Bantamweight Championship
Fernanda Marrufo vs. Marita Sanchez
Jose Ferrari vs. Tony Cortes
Preliminary Card
Sara Cova vs. Carolyne Gallardo
Jordan Beltran vs. Javier Reyes
Background
COMBATE GLOBAL has announced a world bantamweight (135 pounds) championship fight as its next main event on Sunday, May 28.
Reigning COMBATE GLOBAL World Bantamweight Champion, David "The Black Spartan" Martinez (9-1) will put his coveted title on the line against former "COPA COMBATE" tournament competitor, Jose "The Mercenary" Zarauz (23-9-1).
Univision will give fans a look at this much-anticipated world championship showdown with a special, one hour preview show on Saturday, May 20 at 1 a.m. ET/10 p.m. PT.

"David Martinez has shown why he is a world champion at only 24 years old," said COMBATE GLOBAL CEO Campbell McLaren. "The fight with a seasoned fighter like Jose Zarauz, however, will be a new kind of challenge for the champ, though."

The bout will mark the second title defense by Martinez of Mexico City, Mexico, after he successfully defended his crown against fellow Mexican star Axel Osuna last October 7.
To date, Martinez, also a decorated, competitive kickboxer with numerous titles on his resume and a member of the famed Mexico City-based camp, Bonebreakers, has earned 8 of his 9 professional MMA career victories by way of (T)KO.
Martinez became the third COMBATE GLOBAL world bantamweight champion in history on May 29, 2021 by defeating three consecutive opponents in a one-night, eight-man tournament.

In the 30-year-old Zarauz, a native of Lima Peru with 10 years of professional fight experience, Martinez faces a competitor with a great deal more of experience than the champion.
Zarauz, who holds a purple belt in Brazilian Jiu-Jitsu and typically looks to finish opponents by way of ground-and-pound, will enter La Jaula for the first time in 2023, following a second round (4:19) victory over American Jordan Espinosa that Zarauz produced by rear-naked choke submission on May 20, 2022.
Other than his appearance in the 2021 "COPA COMBATE" one-night, eight-man, $100,000 grand prize tournament in 2021, the championship showdown marks the highest stakes fight of Zarauz's career, a factor that drove him to train for the fight at the famed, New York-based Tiger Schulmann's Martial Arts camp. where Zarauz was able to prepare with a number of MMA stars, including Julio Arce.