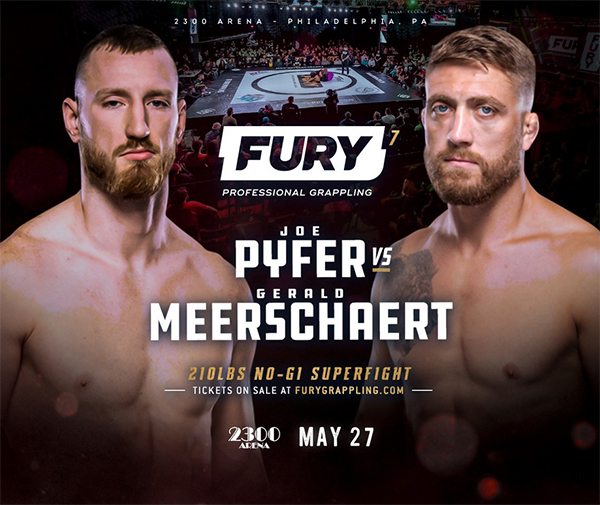 Fury Pro Grappling 7: Pyfer vs. Meerschaert is an upcoming grappling event scheduled for May 27, 2022 at the 2300 Arena in Phildelphia, Pennsylvania, United States.
Fight Card

Main Card (UFC Fight Pass)
Joe Pyfer vs. Gerald Meerschaert 210 lbs
Lauren Strausser vs. Amanda Mazza 115 lbs
Michael Villeneuve vs. Cameron Scalio 165 lbs
Kyle Hughes vs. Daishi Goto 200 lbs
Andrew Chirico vs. Enrique Galarza 175 lbs
Matt Ferraiolo vs. Nick Salles 160 lbs
Marissa Pacelli vs. DeAnna Bennett 150 lbs
Sean Yadimarco vs. Connor Dixon 195 lbs
Sandy Chheng vs. Cathryn Millares 115 lbs
Thiago Angelon vs. Kevin Dantzler 155 lbs
Rene Sousa vs. Andre Petroski 200 lbs
Preliminary Card
Layla Newton vs. Jocelyn Letscher 125 lbs
Matt Masch vs. Cole Kelley 155 lbs
Jesse Dorman vs. Cahmar Marsh 175 lbs
Dylan Harnish vs. Andrew Ryan 160 lbs
Kelly Zaccheo vs. Becca Burkhart 130 lbs
Sonny Roche vs. Edgardo Caraballo 175 lbs
Gabriel Bravo vs. Matt Doyle 175 lbs
Kalle Blidenbacher vs. Jon Pellot 225 lbs
Nick Toscano vs. Tyler Carroll 155 lbs
William Redheffer vs. Jeremy Merck 195 lbs
Tom Grosmick vs. Jason Palmer 195 lbs
Background
The most exciting night in grappling returns with FURY PRO 7 at the 2300 Arena in South Philadelphia this Memorial Day Weekend, featuring some of the biggest names in the UFC and Pro Grappling scene for another blockbuster event!

Cage Fury Fighting Championships (CFFC) and FURY Professional Grappling are excited to announce that Philadelphia's 2300 Arena will once again play host to an incredible lineup of UFC stars and top submission grappling talent for a Memorial Day Weekend showcase on Saturday, May 27.

FURY Professional Grappling 7, the latest installment of the hugely popular grappling series, features an initial lineup of top UFC talent, including Dana White's Contender Series contract winner Joe "Bodybagz" Pyfer, who returns to the FURY Professional Grappling mats for a second time Joe Pyfer taking on short notice matchup Gerald Meerschaert, as well as UFC middleweight and three-time FURY Professional Grappling winner Andre Petroski coming back, while former FURY Professional Grappling headliner Kevin Dantzler makes his fourth appearance for the promotion.