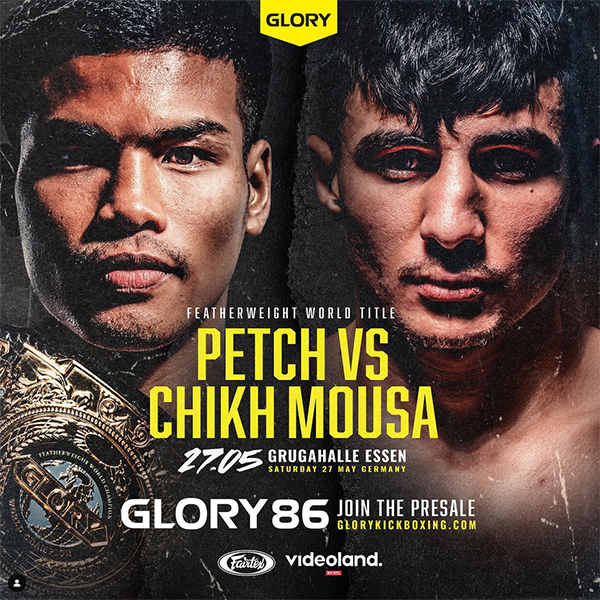 Glory 86: Petch vs. Chikh Mousa is an upcoming kickboxing event held by Glory on May 27, 2023, at the Grugahalle in Essen, Germany.
Fight Card

Main Card
Featherweight 65 kg Thailand Petpanomrung Kiatmuu9 (c) vs. Germany Ahmad Chikh Mousa
Featherweight Championship
Heavyweight 95+ kg Romania Benjamin Adegbuyi vs. France Sofian Laidouni
Heavyweight Grand Prix Qualifier
Heavyweight 95+ kg Netherlands Luis Tavares vs. Azerbaijan Bahram Rajabzadeh
Lightweight 70 kg Germany Enriko Kehl vs. France Guerric Billet
Lightweight title eliminator
Super Bantamweight 55 kg France Sarah Moussadak vs. Argentina Giuliana Cosnard
Welterweight 77 kg Netherlands Chico Kwasi vs. Netherlands Robin Ciric
Middleweight 85 kg Brazil Joilton Lutterbach vs. Portugal Juri De Sousa
Preliminary Fights
Heavyweight 95+ kg Estonia Uku Jürjendal vs. Lithuania Mantas Rimdeika
Background
In the main event, featherweight champ Petch (168-39-3, 27 KO) looks to defend his crown for the sixth time when he welcomes the challenge of local hero Ahmad Chikh Mousa (58-8-1, 28 KO).

The Thai sensation has been reigning supreme atop of the featherweight division since he defeated the legendary Robin van Roosmalen in 2018 but will need to be on the top of his game again as he heads into enemy territory. Germany's Chikh Mousa made his GLORY debut just nine months ago and, with three emphatic wins, has risen to number four in the division and earned his shot at glory.

The co-main event will see a crucial fight between Romania's Benjamin Adegbuyi (35-8, 20 KO) and Sofian Laïdouni (35-2-1, 17 KO) of France that will decide who will qualify for the GLORY Heavyweight Grand Prix in December. Perennial contender Adegbuyi has his eyes on winning the grand prix while Laïdouni has the opportunity to get the biggest scalp of his career and make a huge statement in the heavyweight division.

The long-awaited return for Moroccan-Dutch star Hamicha (40-2, 30 KO) will also take place on May 27. The 27-year-old, who is undefeated at 4-0 in GLORY and ranked number two at welterweight, was last seen in 2021. He faces French debutant Sofiane Gelin (9-3-1, 6 KO) in what should be a non-stop action bout.

German star Enriko Kehl (51-17-2, 30 KO) will make his anticipated GLORY debut as he looks to immediately jump straight to the top of the division when he takes on the number one ranked lightweight Guerric Billet (38-6-1, 15 KO) of France. If that wasn't enough, former title challenger Sarah Moussaddak (6-2, 1 KO) meets Giuliana Cosnard (47-2-1, 10 KO) in a top women's fight and Robin Ciric (38-7, 10 KO) clashes with Chico Kwasi (37-4, 25 KO) in an all-Dutch affair that could be fight of the night.

Rounding out the card, Portugal's Jouri de Sousa (43-8-1, 20 KO) welcomes Brazil's Joilton Lutterbach (13-1, 7 KO) to the middleweight division and there's a Baltic heavyweight battle in the free live prelim as Estonia's Uku Jurjendal (16-7, 12 KO) collides with Lithuania's Mantas Rimdeika (16-4, 7 KO) in the opening bout of the night.