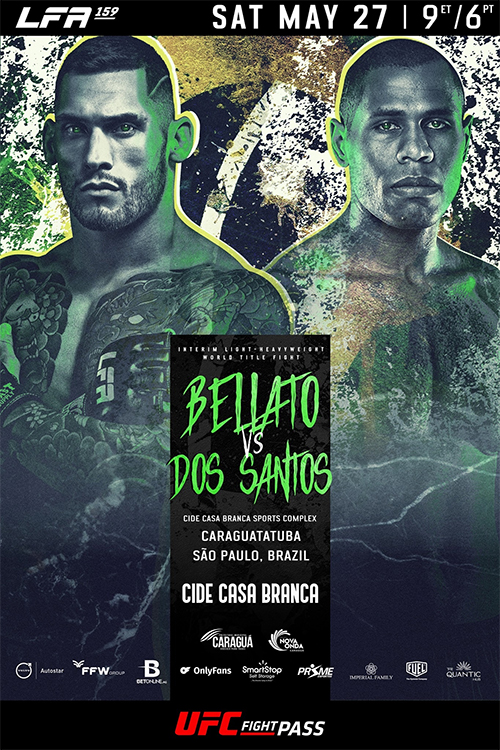 LFA 159: Bellato vs. Dos Santos is a mixed martial arts event promoted by Legacy Fighting Alliance and will take place on May 27, 2023 at the CIDE Casa Branca Sports Complex in Caraguatatuba, São Paulo, Brazil.
Fight Card

Main Card (UFC Fight Pass)
Rodolfo Bellato vs. Acácio dos Santos 205 lbs
Interim Light Heavyweight Championship
Anderson Ferreira vs. Junior Luiz 155 lbs
Geraldo Neto vs. Argemiro Delmandes 170 lbs
Lucas Rocha vs. Matheus da Silva 125 lbs
Vinicius Pires vs. Kauã Fernandes 135 lbs
Hugo Cunha vs. Fernando Batista 265 lbs
Preliminary Card
Gabriel Silva vs. Lerryan Douglas 145 lbs
Marcos Degli vs. Hugo Paiva 125 lbs
Isaias Simões vs. João Paulo Santos 135 lbs
Manuel Robson Minoto vs. Juan Pablo Vieira 155 lbs
Levi Rodrigues vs. José Carlos Lima 205 lbs
Rafaela Silva vs. Aieza Bertolso 115 lbs
Background
LFA will have a new main event when it returns to the Brazilian coastal city of Caraguatatuba this Saturday at LFA 159. This will be the third LFA event to be held on a Saturday and it will be the tenth LFA event to take place in Brazil after the promotion's international expansion began in the summer of 2021.

LFA 159: Bellato vs. Dos Santos takes place this Saturday, May 27th at the CIDE Casa Branca Sports Complex in Caraguatatuba, São Paulo, Brazil. The main event will feature an interim light-heavyweight title fight between top prospects Rodolfo "Trator" Bellato and Acácio "Pequeno" Dos Santos.

"We are excited to bring the interim light-heavyweight championship to the southeast coast of Brazil at LFA 159," stated LFA CEO Ed Soares. "The new main event will crown an interim 205-pound champion, when top prospects Rodolfo Bellato and Acácio Dos Santos fight for the interim light-heavyweight title. The winner will then get a chance to unify the title against current champion Bruno Lopes later this year. The previously announced main event between women's strawweight champion Julia Polastri and undefeated challenger Rose Conceição has been canceled after Polastri withdrew from the bout, which was scheduled for this Saturday. We hope to see them both back in action soon."

Bellato (9-2) and Dos Santos (15-5) vie to become the LFA's seventh light-heavyweight champion. This interim opportunity became available to both men as the promotion awaits the return of its undefeated sitting champion Bruno "Brunão" Lopes, who won the title last September in the main event of LFA 143. The champion is expected to fight the winner of Bellato vs. Dos Santos in a title unification bout later this year.

Bellato and Dos Santos have taken similar paths over the past 12 months. After picking up wins early in 2022, both men were invited to compete on Dana White's Contender Series last summer. Now they are looking to get back on the UFC boss' radar. That began earlier this year with both prospects earning dominant TKO wins. Now it continues as both men have their sights set on capturing LFA gold in the main event of LFA 159.