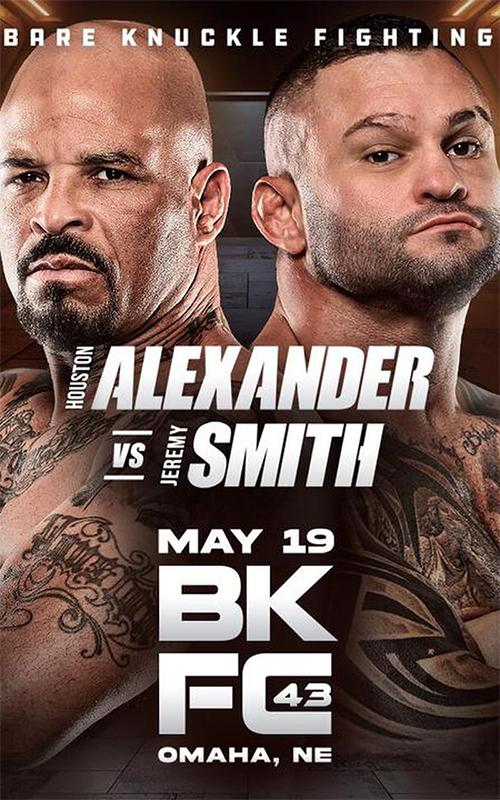 Bare Knuckle Fighting Championship 43: Alexander vs. Smith (also known as BKFC 43: Omaha) will be a bare-knuckle fighting event held by Bare Knuckle Fighting Championship on May 19, 2023, at the Liberty First Arena in Omaha, Nebraska, United States.
Fight Card

Main Card
Cruiserweight Houston Alexander vs. Jeremy Smith
Middleweight Dakota Cochrane vs. Noah Cutter
Lightweight Sean Wilson vs. Brandon Meyer
Cruiserweight Ryan Braun vs. Andrew Potter
Middleweight Alonzo Martinez vs. Joey Munoz
Featherweight Jimmie Rivera vs. Bekhzod Usmonov
Women Flyweight Jade Masson-Wong vs. Taylor Starling
Welterweight Carlos Trinidad-Snake vs. Elvin Leon Brito
Preliminary Card
Featherweight Tommy Strydom vs. Josh Krejci
Light Heavyweight Esteban Rodriguez vs. Jaquis Williams
Featherweight TJ Benson vs. Corey Roberts
Background
Friday's Main Event features a can't-miss lightweight battle between the undefeated Tony "Loco" Soto (4-0) and former BKFC title challenger Tyler "Tornado" Goodjohn (4-2)Bare Knuckle Fighting Championship returns to Omaha, NE for the fourth time this week, as BKFC 43 goes down Friday under the bright lights at Liberty First Arena.

In the Main Event, red-hot hometown fighter Houston "The Assassin" Alexander looks to climb to 4-0 under the BKFC banner against his toughest challenge yet, Jeremy "Pitbull" Smith (3-1), in the stacked BKFC cruiserweight division. Alexander, 51, has been Midwest fighting royalty since his days in the UFC, and he's been unstoppable since joining BKFC in 2021, bringing home knockout victories in all of his first three fights. Smith, a MMA champion in his native South Africa before signing with BKFC in 2021, is riding high with three straight wins, with two of those victories coming by stoppage. The winner of this fight could very well be next in line for a shot at BKFC World Cruiserweight Champion Lorenzo "The Juggernaut" Hunt (9-1) – Alexander is the No. 2-ranked contender in the division, and Smith occupies the third spot.

A pair of battle-tested, fan-favorite middleweight contenders – Dakota Cochrane and Noah Cutter – square off in the Co-Main Event. Both fighters bring a wealth of experience in the Squared Circle to this highly anticipated showdown. Cochrane's 4-2 record includes three knockouts, and Cutter's BKFC career includes eight bouts and three knockout victories.

Friday's Feature Fight is a hotly anticipated lightweight showdown between Sean "P-Town" Wilson (2-1, 1 KO) and Brandon Meyer (1-0, 1 KO). Also at BKFC 43 is the return of former BKFC World Lightweight Champion Elvin "El Bandido" Brito (5-3, 1 KO), former BKFC World Women's Flyweight Championship challenger Taylor "Killa Bee" Starling (3-1, 1 KO), and much more.