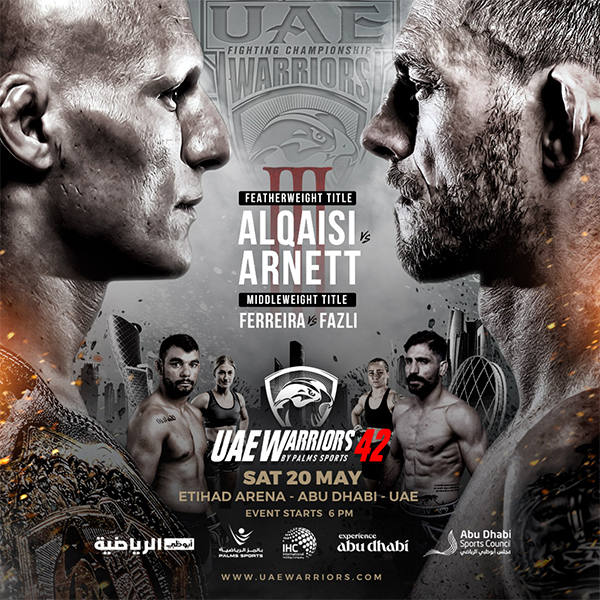 UAE Warriors 42: Alqaisi vs. Arnett 3 is a mixed martial arts event promoted by UAE Warriors and will take place on May 18, 2023 at the Etihad Arena in Abu Dhabi, United Arab Emirates.
Fight Card

Main Card (UFC Fight Pass)
Ali AlQaisi vs. Jesse Arnett 145 lbs​
Strawweight Championship
Juscelino Ferreira vs. Amir Fazli 185 lbs​
Vacant Middleweight Championship
Nigedan vs. Sanzhar Adilov 125 lbs
Amru Magomedov vs. Renan Oliveira 155 lbs
Alex da Silva vs. Ali Mashrapov 160 lbs
Attila Korkmaz vs. Karlo Caput 155 lbs
Preliminary Card
Murad Bilarov vs. Bagysh Zharmamatov 155 lbs
Elin Öberg vs. Naomi Tataroglu 119 lbs
Furkatbek Yokubov vs. Junifer Kimmayong 132 lbs
Ullubiy Amirzhanov vs. Sakhi Qambari 140 lbs
Background
UAE Warriors 42 will give us the conclusion to the trilogy between Alqaisi vs Arnett. Two exciting title fights on the card!