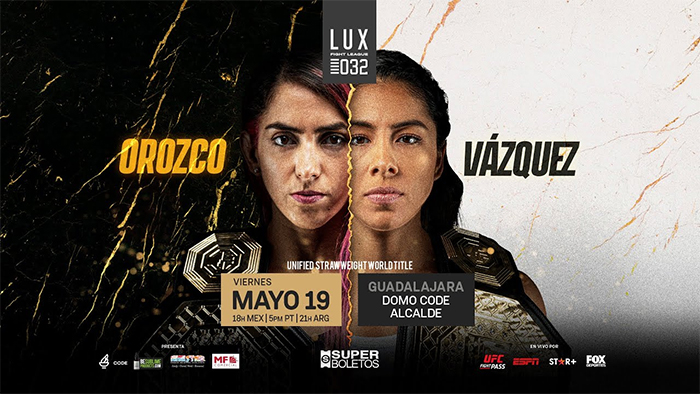 LUX 32: Orozco vs. Vázquez is a mixed martial arts event promoted by Lux Fight League and will take place on May 19, 2023 at the Domo Code Alcalde, Guadalajara, Mexico.
Fight Card

Main Card (UFC Fight Pass)
Jean-Paul Lebosnoyani vs. Jacobi Jones 155 lbsStrawweight Saray Orozco vs. Andrea Vázquez​
Strawweight Championship
Featherweight Edgar Delgado vs. Victor Moreno
Welterweight Anuar Aburto vs. Luis Márquez​
Bantamweight Luis Ronaldo Rodríguez vs. Ángel Rodríguez
Bantamweight Mauricio Alfonso vs. Mauricio Nievas
Catchweight (165 Lbs) Luis Solórzano vs. Alejandro Villarreal
Lux Challenge
Bantamweight Uriel Cossio vs. Jaime Londono
Catchweight (165 Lbs) Carlos Arana vs. Erick Garibay​
Bantamweight Alexis León vs. Brandon Alcaraz​
Welterweight Carlos Camargo vs. Josue Bojorge​
Strawweight Tisha Baltazar vs. Itzel Padilla​
Background
LUX is for the first time in Guadalajara! LUX Fight League presents "LUX 032", with the stellar fight for the "Unification of the Straw Weight Title" between the local Saray "Killer Queen" Orozco and Andrea Vázquez.