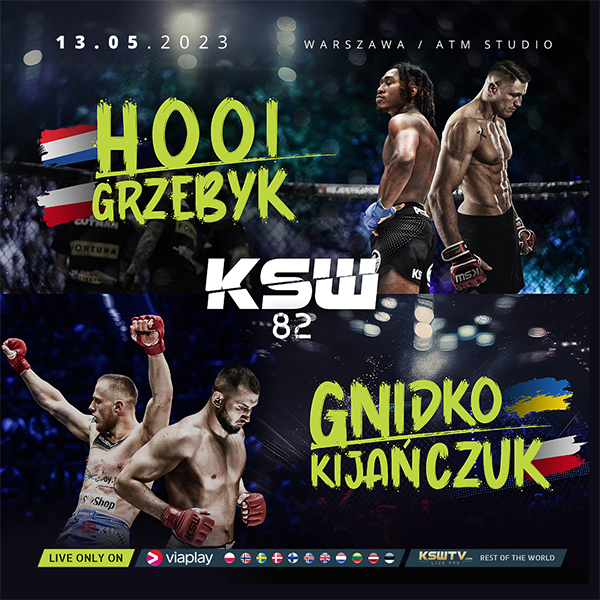 KSW 82: Hooi vs. Grzebyk will be a mixed martial arts event held by Konfrontacja Sztuk Walki on May 13, 2023 at the ATM Studio in Warsaw, Poland.
Fight Card

Main card
Welterweight 77 kg Netherlands Brian Hooi vs. Poland Andrzej Grzebyk
Light Heavyweight 93 kg Poland Rafał Kijańczuk vs. Ukraine Bohdan Gdnidko
Bantamweight 61 kg Czech Republic Filip Macek vs. Poland Sebastian Przybysz
Lightweight 70 kg Belgium Donovan Desmae vs. Georgia Raul Tutarauli
Lightweight 70 kg Czech Republic Leo Brichta vs. Poland Maciej Kazieczko
Lightweight 70 kg France Wilson Varela vs. Poland Gracjan Szadziński
Strawweight 52 kg Bulgaria Aleksandra Toncheva vs. Poland Anita Bekus
Catchweight 79 kg Poland Robert Maciejowski vs. Poland Wiktor Zalewski
Background
On May 13, the KSW 82 gala will take place in Warsaw's ATM Studio, where the main event will be a confrontation between fighters who are famous for ending duels ahead of time. In this clash, Brian Hooi, number three among the best KSW welterweight fighters, will face Andrzej Grzebyk, number four on this list.

A light heavyweight bout between Rafał Kijańczuk and Bohdan Gdnidko serve as the co-main event.

In a featured fight of the evening, fans will see a duel between Sebastian Przybysz, a former bantamweight champion and one of the most effective fighters of KSW, with the best Czech fighter in this category, a true submission specialist, Filip Macek.