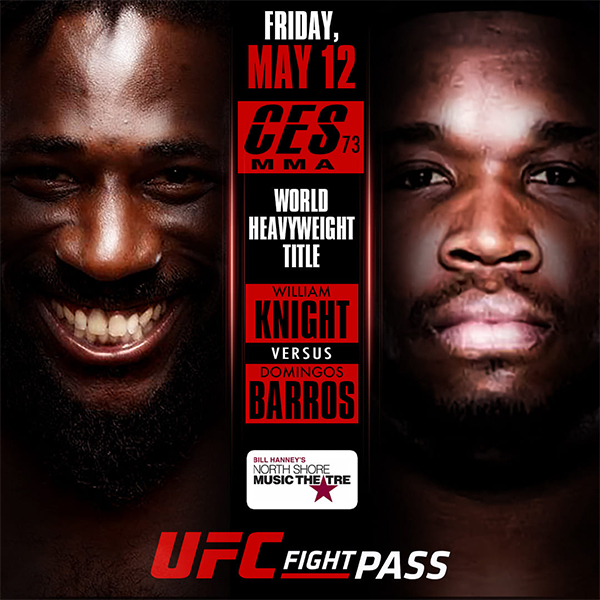 CES 73: Knight vs. Barros is a mixed martial arts event by Classic Entertainment & Sports MMA to take place on May 12, 2023 at the North Shore Music Theatre in Beverly, Massachusetts, United States.
Fight Card

Main Card (UFC Fight Pass)
William Knight vs. Domingos Barros 265 lbs
Heavyweight Championship
Eddy George vs. Yemi Oduwole 155 lbs
Regivaldo Carvalho vs. Brendon Marotte 145 lbs
Shawn Johnson vs. Travis Demko 135 lbs
John Howard vs. Mike Zichelle
Pro Grappling
James Grant Murrin vs. Shawn Rall 145 lbs
Sam Watford vs. Ramano Medina 155 lbs
Jon Ciampa vs. Mus'Aib Baiyina 185 lbs
Preliminary Card
Wyatt Knopfke vs. Braeton Lawton 265 lbs
Lucas Rosa vs. Randy Francis 145 lbs
Background
UFC vet William Knight (11-5) & Bellator vet Domingos Barros (7-1) collide for the vacant CESMMA Heavyweight Championship, plus in the co-main event, the unbeaten Eddy George looks to improve to 7-0 vs. his toughest challenge yet, Yemi Oduwale (9-4).

Also on the card, UFC vet & BJJ Black Belt John "Doomsday" Howard and Bellator vet & Brown Belt Mike Zichelle square off in a Grappling Super Fight!