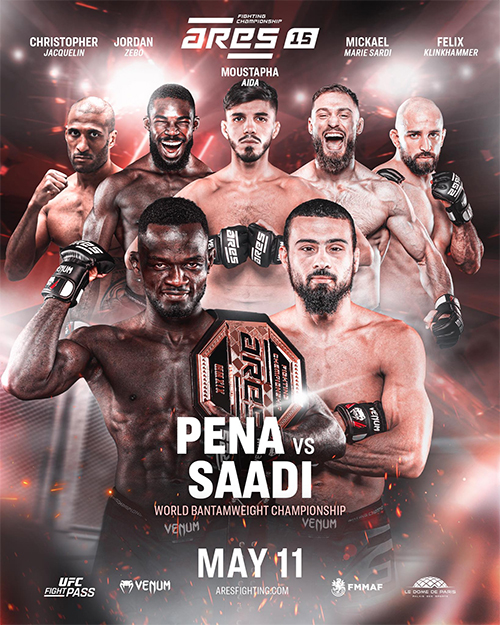 Ares FC 15: Pena vs. Saadi is a mixed martial arts event to take place on May 11, 2023 at the Dôme de Paris in Paris, France.
Fight Card

Main Card (UFC Fight Pass)
Demarte Pena vs. Mehdi Saadi 135 lbs
Bantamweight Championship
Amin Ayoub vs. Alaa Mansour 170 lbs
Ibrahim Mané vs. Juan Manuel Suarez 176 lbs
Christopher Jacquelin vs. Felix Klinkhammer 170 lbs
Jordan Zébo vs. Mickael Marie Sardi 170 lbs
Vincent del Guerra vs. Nikola Joksović 170 lbs
Moustapha Aida vs. Abdelmoumen Mssaate 135 lbs
Preliminary Card
Alexander Soldatkin vs. Benjamin Šehić 265 lbs
David Tonatiuh Crol vs. Asilder Badouiev 145 lbs
Assia Miri vs. Joana Chevreuil 115 lbs
Azamat Aboukhanov vs. Islem Masraf 265 lbs
Background
Demarte "The Wolf" Pena is a 33 year old fighter from Angola with a pro MMA Record of 13-1-0, 2 NC. Mehdi Saadi is a fighter from France with a 5-1-0 pro MMA record. They are set to fight for the Bantamweight Championship on Ares FC 15.