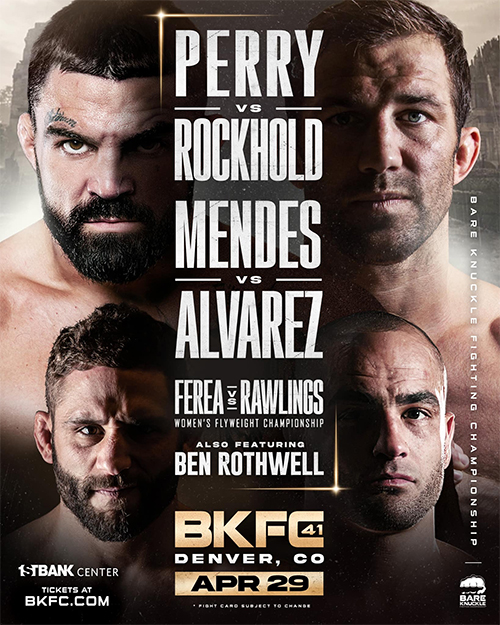 Bare Knuckle Fighting Championship 41: Perry vs. Rockhold (also known as BKFC 41: Colorado) will be a bare-knuckle fighting event held by Bare Knuckle Fighting Championship on April 29, 2023, at the 1stBank Center in Broomfield, Colorado, United States.
Fight Card

Main Card
Light Heavyweight 84 kg United States Mike Perry vs. United States Luke Rockhold
Lightweight 70 kg United States Chad Mendes vs. United States Eddie Alvarez
Women's Flyweight 57 kg United States Christine Ferea (c) vs. Australia Bec Rawlings
Women's Flyweight Championship
Cruiserweight Chris Camozzi vs. Dan Spohn
Welterweight Brandon Girtz vs. Christian Torres
Light Heavyweight Marcus Edwards vs. Jay Jackson
Lightweight Mike Alvarado vs. James Brown
Lightweight BJ Lawrence vs. Wayna Reid
Heavyweight Ben Rothwell vs. Josh Copeland
Preliminary Card
Lightweight Mitch Seybold vs. Jack Willoughby
Middleweight Jessie Stalder vs. Roderick Stewart
Light Heavyweight Matthew Maestas vs. Dillion Winemiller
Background
It's officially Fight Week for the BIGGEST event in Bare Knuckle Fighting Championship history – BKFC 41 goes down Saturday at 1STBANK Center in Denver!

The combat sports world is counting down the seconds to the BKFC debuts of former UFC champions Luke Rockhold and Eddie "The Underground King" Alvarez as they drop the gloves for the first time against "Platinum" Mike Perry (3-0) and three-time UFC title challenger Chad "Money" Mendes (1-0), respectively. Four of the fight game's biggest stars put it all on the line in the world-famous Squared Circle, and none of these icons are willing to back down an inch when it's time to toe the line.

The Main Event and Co-Main Event have gotten the lion's share of the pre-fight headlines, but Friday's must-see event is STACKED from top to bottom.

In the Feature Fight of the night, Christine "Misfit" Ferea defends her BKFC World Women's Flyweight Championship against UFC vet Bec Rawlings (3-1). Ferea tries to climb to 7-1 with a fifth straight victory. A win will put her in a tie with Britain Hart for most all time victories among female fighters. No female fighter has more stoppage wins in the Squared Circle than Ferea, who earned her fifth finish with a 40-second blitzing of the previously unbeaten Taylor Starling in her most recent fight.

BKFC 41 also features a highly anticipated heavyweight battle between UFC vets "Big" Ben Rothwell (1-0) and Josh "Cuddly Bear" Copeland (1-0), a cruiserweight showdown between UFC vets Chris Camozzi (1-0) and the debuting Dan "Dragon" Spohn, and MUCH more.