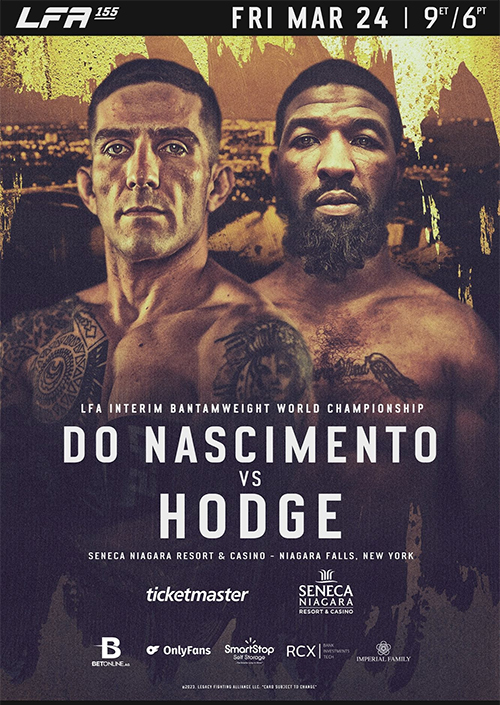 LFA 155: do Nascimento vs. Hodge is a mixed martial arts event promoted by Legacy Fighting Alliance and will take place on March 24, 2023 at the Seneca Niagara Casino & Hotel in Niagara Falls, New York, United States.
Fight Card

Main Card (UFC Figh Pass)
Bantamweight Rafael do Nascimento vs. Jerrell Hodge
Interim Bantamweight Championship
Welterweight Solomon Renfro vs. Gláucio Eliziário
Women's Strawweight Ashley Nichols vs. Jamie Colleen Miller
Lightweight Adam Assenzaa vs. Yemi Oduwole
Flyweight Cody Davis vs. Joseph Camacho
Featherweight Rafael Barbosa vs. Mairon Santos
Light Heavyweight Joe Taylor vs. Ben Parrish
Preliminary Card
Flyweight Rodney Kealohi vs. Alvaro Prado
Middleweight Liam Anderson vs. Kohlman Scribner
Flyweight Gavin Teasdale vs. Shad Walters
Lightweight Taylor Cahill vs. Tymar Miles
Middleweight Jay Manning vs. Bruce Xavier
Welterweight Austin Ross vs. Alonzo Turner
Background
LFA's third event in New York. The main event of LFA 155 will feature an interim bantamweight title fight between two of the division's top prospects when the promotion returns to the Empire State. LFA 155 will be the third LFA event to take place in the state, while the main event will crown the ninth 135-pound champion in LFA history.

LFA 155 takes place Friday, March 24th at the Seneca Niagara Resort & Casino in Niagara Falls, New York. The main event will feature an interim bantamweight world title fight between Machida Karate standout Rafael "Mulisha" Do Nascimento and Midwest powerhouse Jerrell "Thunderkat" Hodge.

"We are excited to return to New York at the end of March," stated LFA CEO Soares. "The Seneca Niagara Resort & Casino is a world-class venue. The American and Canadian fans that attend our shows there are incredible. Niagara Falls is a worldwide destination and we will be bringing a third headliner to the city with worldwide appeal. Rafael "Mulisha" Do Nascimento and Jerrell "Thunderkat" Hodge will fight for the LFA interim bantamweight title in the main event of LFA 155. The winner will then get a chance to unify the title against current champion Muin Gafurov later this year."

Do Nascimento (8-1) enters 2023 at the top of every MMA pundits "can't miss" prospect list. This is a complete 180 from how he started last year, when he signed with the LFA as a relatively unknown entity and took the division by storm. The talented Brazilian began his career by picking up six wins (five by submission) in his home country. The last of those wins took place just before COVID-19 lockdown in 2020, which made it nearly impossible for prospects around the world to find opportunities. That caused the Mato-Grossense to drop off the MMA radar for two and a half years. The man known as "Mulisha" decided it was time to take his talents abroad and made his way to Los Angeles, where he found the Machida Karate dojo, which is home to former UFC champion Lyoto Machida, Bellator veteran Chinzô Machida, and former LFA featherweight champion Bruno Souza. That move was followed by him signing with the LFA and enjoying a career-year, which saw him become the only fighter in the promotion to be nominated for Fighter of the Year, Knockout of the Year, and Submission of the Year. Now that he has shed his unwarranted underdog label, Do Nascimento has his sights set on LFA gold.

Hodge (9-3) is a man that began his pro MMA career seven and a half months after Do Nascimento on the opposite hemisphere. While the American comes from a different country and continent, he has faced similar obstacles along the way, which makes their championship showdown even more compelling. The proud Cleveland, Ohio native jump started his MMA career in the amateur ranks over a decade ago by compiling a staggering 11-1 record. 8 of those wins came by stoppage, which includes a knockout win over Cody Garbrandt. This is the same Cody Garbrandt that went on to become the UFC bantamweight champion and one of the biggest stars in the sport. "Thunderkat" found similar success as a pro, where he enjoyed a 5-fight win streak before dropping decisions to two current UFC standouts. After a three year hiatus from the sport, due to similar circumstances that had caused Do Nascimento to do the same, he returned to his winning ways by dominating his last four fights. Hodge supplemented this with four professional boxing matches and currently finds himself at the top of Ohio's pound-for-pound rankings on Tapology.com. More importantly, he now looks to become the third Ohioan to win an LFA title.