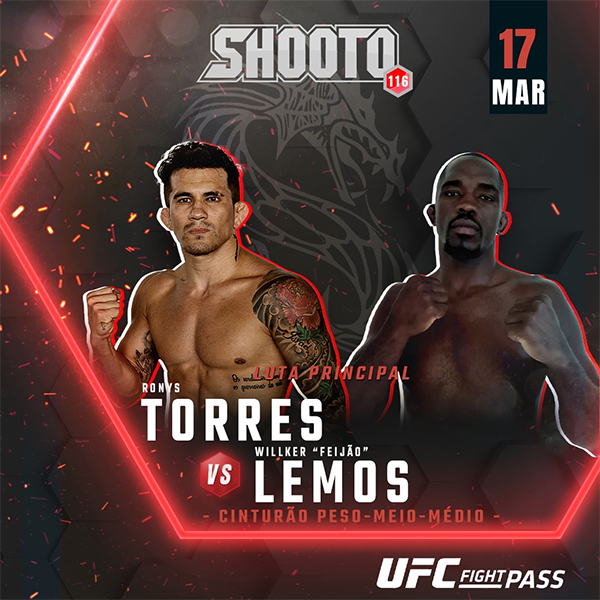 Shooto Brasil 116: Torres vs. Lemos is an upcoming mixed martial arts event scheduled to take place on March 17, 2023 at the Upper Arena in Rio de Janeiro, Rio de Janeiro, Brazil.
Fight Card

Main Card (UFC Fight Pass)
Willker Lemos vs. Ronys Torres 170 lbs
Vacant Welterweight Championship
Arthur Lima vs. Carlos Silva 155 lbs
Diego Dias vs. Vandirson Alves 185 lbs
Yuri Neles vs. Jefferson André 155 lbs
Gabriel Thimoteo vs. George Tokkos 205 lbs
Lincon Santos vs. Juscelino Pantoja 128 lbs
Agata Lucas vs. Hannette Staack 125 lbs
Preliminary Card
Ricardo Lima Jr. vs. Lucas Caldas 170 lbs
Ricardo de Almeida vs. Lucas de Araujo 145 lbs
Douglas Régis vs. Breno Yuri 135 lbs
Background
Shooto is a combat sport and mixed martial arts organization that is governed by the Shooto Association and the International Shooto Commission. Shooto was originally formed in 1985, first as a particular fighting system and then in 1989 as a mixed martial arts promotion.