KSW 80: Ruchała vs. Eskiev will be a mixed martial arts event held by Konfrontacja Sztuk Walki on March 17, 2023 at the RCS Hall in Lubin, Poland.
Fight Card

Main Card
Featherweight 66 kg Poland Robert Ruchała vs. Germany Lom-Ali Eskiev
Interim Featherweight Championship
Middleweight 84 kg England Tom Breese vs. Poland Bartosz Leśko
Light Heavyweight 93 kg Brazil Henrique Da Silva vs. France Oumar Sy
Welterweight 77 kg Poland Michał Michalski vs. Georgia (country) Giorgi Kvelidze
W.Flyweight 57 kg Poland Emilia Czerwińska vs. Brazil Yasmin Guimarães
Featherweight 66 kg Poland Wojciech Kazieczko vs. Moldova Danu Tarchila
Light Heavyweight 93 kg Poland Bartłomiej Gładkowicz vs. Poland Damian Piwowarczyk
Welterweight 77 kg Poland Borys Borkowski vs. Poland Kacper Koziorzębski
Bantmanweight 61 kg Poland Przemysław Górny vs. Poland Kamil Szkaradek
Middleweight 84 kg Croatia Andi Vrtačić vs. Poland Mateusz Janur
Background
Robert Ruchała was expected to face Dawid Śmiełowski for the interim KSW Featherweight Championship in the main event. Śmiełowski withdrew with an injury on February 25, and was replaced by Lom-Ali Eskiev.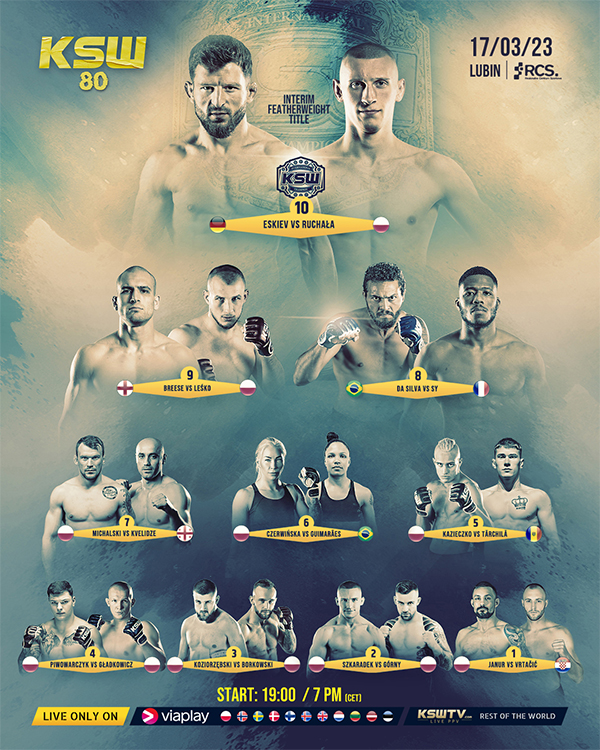 [/img]