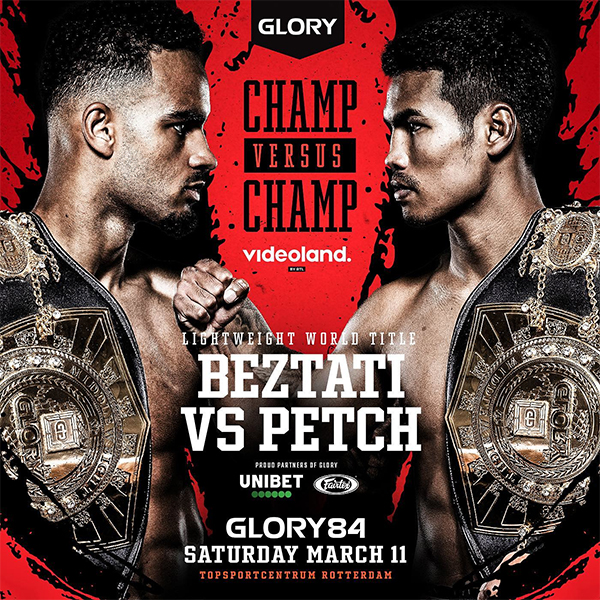 Glory 84 will be a kickboxing event held by Glory on March 11, 2023, at the Topsportcentrum in Rotterdam, Netherlands.
Fight Card

Main Card
Lightweight 70 kg Morocco Tyjani Beztati (c) vs. Thailand Petpanomrung Kiatmuu9
Lightweight Championship
Light heavyweight 95 kg Morocco Tarik Khbabez vs. Spain Daniel Toledo
Welterweight 77 kg Netherlands Jay Overmeer vs. United Kingdom Jamie Bates
Light Heavyweight 95 kg Algeria Nordine Mahieddine vs. Brazil Felipe Micheletti
Middleweight 85 kg Turkey Ertugrul Bayrak vs. Ghana Michael Boapeah
Welterweight 77 kg Netherlands Chico Kwasi vs. Romania Ștefan Orza
Preliminary Fights
Heavyweight 95+ kg New Zealand David Tuitupou vs. Serbia Strahinja Mitrić
Heavyweight 95+ kg Morocco Nabil Khachab vs. France Sofian Laidouni
Middleweight 85 kg Morocco Iliass Hammouche vs. Cameroon Brice Kombou
Background
A Glory Lightweight Championship bout between current champion Tyjani Beztati and current Glory Featherweight Champion Petpanomrung Kiatmuu9 is expected to headline the event.

A light heavyweight bout between former Glory Light Heavyweight title challenger Tarik Khbabez (also the 2015 Superkombat Heavyweight World Grand Prix Winner) and Kristpas Zile is expected to take place at the event.

A welterweight bout between former WFL Welterweight Champion Jay Overmeer and Superkombat World Grand Prix II light heavyweight tournament winner Jamie Bates is expected to place as the co-main event.

A middleweight bout between former two-time WFL Middleweight Champion Ertugrul Bayrak and former Golden Fighter Championship top contender Michael Boapeah was scheduled for the event.

A welterweight bout between undefeated promotional newcomer and former Colosseum Tournament world welterweight champion Ștefan Orza and former KOK world welterweight champion (also a promotional newcomer) Chico Kwasi.


Headlining the event is a Champion vs. Champion Super Fight as Tyjani Beztati (23-4, 8 KO) will put his Lightweight Championship on the line against Featherweight King Petchpanomrung 'Petch' Kiatmookao (168-38-3, 27 KO).

Known as 'The Wonderboy', Beztati won the belt at GLORY 78 with a unanimous decision win over Elvis Gashi and has defended it twice since, first against Josh Jauncey and, most recently, against Stoyan Koprivlenski.

In arguably his toughest challenge since becoming Champion, Beztati will defend his Title against Featherweight Champion 'Petch'. Also referred to as 'The Professor', the Thai fighter has defended the Featherweight Title four times and has earned victories over the likes of Robin van Roosmalen, Kevin VanNostrand, Serhii Adamchuk, and Abraham Vidales.

The event will be co-headlined by a light heavyweight bout between Tarik Khbabez (47-10-1, 26 KO) and Kristaps Zīle (33-10). Khbabez fell just short of earning the Light Heavyweight Title in his last fight against at GLORY: COLLISION 4, a battle which earned him and his opponent Sergej Maslobojev the 2022 Fight of the Year. He looks to get back on the winning track against Zīle, who will be making his promotional debut.

Rounding out the card, Jay Overmeer (28-4, 14 KO) meets Jamie Bates (27-7, 3 KO) in a welterweight bout, and perennial heavyweight contender Nordine Mahieddine (27-14, 12 KO) will move down to light heavyweight to face Felipe Micheletti (16-10, 5 KO). Additionally, former Middleweight Title Challenger Ertugrul Bayrak (17-9, 5 KO) will square off against Michael Boapeah (13-3-1, 6 KO), and as GLORY debutants Chico Kwasi and Stefan Orza will meet each other in a welterweight bout.

The GLORY 84 Prelims will feature two heavyweight matchups. David Tuitupou and Strahinja Mitric will face off in their respective GLORY debuts, and Michal Blawdziewicz will look for his first GLORY win against the debuting Sofian Laïdouni. Imad Hadar was scheduled to face Brice Kombou in a middleweight bout but is no longer able to compete. He will be replaced by Iliass Hammouche.