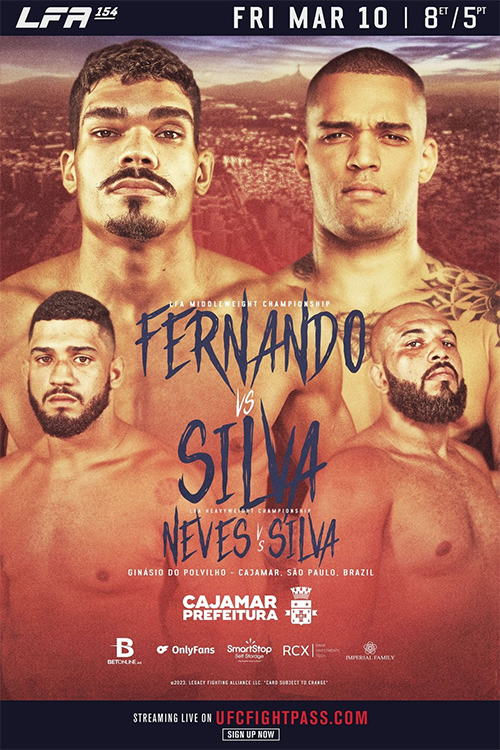 LFA 154: Fernando vs. Silva is a mixed martial arts event promoted by Legacy Fighting Alliance and will take place on March 10, 2023 at the Ginásio do Polvilho in Cajamar, Brazil.
Fight Card

Main Card
Middleweight Lucas Fernando vs. Jansey Silva
Vacant Middleweight Championship
Heavyweight Eduardo Neves vs. Hyago Silva
Vacant Heavyweight Championship
Lightweight Felipe Douglas vs. Italo Gomes
Welterweight Carlos Prates vs. Eduardo Ramon
Light Heavyweight Rodolfo Bellato vs. Gil Carvalho
Bantamweight Jean Matsumoto vs. Marlon Basílio
Preliminary Card
Welterweight Lucas Sampaio vs. Julio Spadaccini
Heavyweight Guilherme Uriel vs. Danilo Espera
Women's Strawweight Lany Silva vs. Sabrina Oliveira
Women's Flyweight Luana Santos vs. Bartira Rodrigues
Welterweight Reginaldo Junior vs. Richard Martins
Women's Strawweight Pâmela Mara vs. Rose Conceição
Background
LFA announced that the promotion will return to Brazil in March with a Championship Doubleheader at LFA 154, which will crown new champions in the Middleweight and Heavyweight divisions. This will be the ninth LFA event to take place in Brazil after the promotion's international expansion began in the summer of 2021. This will also be the fourth LFA event to take place in the state of São Paulo, which is Brazil's most populous state. LFA has also visited the Brazilian states of Rio de Janeiro and Pernambuco.

LFA 154: Fernando vs. Silva takes place Friday, March 10th at the Ginásio do Polvilho in Cajamar, São Paulo, Brazil. The main event will feature a middleweight title fight between top prospects Lucas Fernando and Jansey "Jones" Silva. The co-main event will feature a heavyweight title fight between Eduardo "Bbzão" Neves and Hyago "BRT" Silva.

"We are excited to bring two more championship fights to Brazil at LFA 154," stated LFA CEO Soares. "We will crown a new middleweight champion when top prospects Lucas Fernando and Jansey Silva meet in the main event. The title became vacant when former champion Ozzy Diaz decided to vacate the title after competing on Dana White's Contender Series. Then in the co-main event, we will crown a new heavyweight champion when heavy hitters Eduardo Neves and Hyago Silva meet for the vacant strap. They are are both undefeated in the LFA Octagon and have 11 combined career finishes."

Fernando (8-1) comes from one of Brazil's most famous MMA lineages. Marco Ruas won the UFC 7 one-night tournament. He would then teach Pedro "The Rock" Rizzo, who won "Fight of the Year" in 2001 for his epic five-round heavyweight title fight with Randy Couture at UFC 31. Now just like his mentor, Rizzo, and Ruas before him, Fernando has brought the same grit and determination to the LFA Octagon. The 26-year-old protégé comes from MMA royalty and quickly made them proud in his first three LFA appearances, which includes a flying knee knockout in the LFA's debut event in Brazil at LFA 111, as well as a Unanimous Decision win at LFA 126 and a knockout win against Brazilian star Fabio Aguiar this past September at LFA 143.

Silva (8-2) is a decorated Muay Thai champion from the city of Rio de Janeiro just like his next opponent Fernando. This will create MMA's version of Rio de Janeiro's famous "Fla-Flu" rivalry when the two cariocas travel southwest to Cajamar in the state of São Paulo to compete on neutral territory for the LFA middleweight title. The flashy 27-year-old striker honed his craft overseas in Thailand at an early age and is now a member of the Tata Fight Team. "Jones" tasted the global spotlight when he headlined Dana White's Contender Series: Season 5, Week 9. Now the Tatá Duarte protégé looks to join his teammate and UFC star André "Sergipano" Muniz on the world stage by winning an LFA championship in the main event of LFA 154.

The co-main event of LFA 154 will feature a heavyweight title fight featuring Brazil's two biggest knockout artists. Neves (6-1) won two bouts in the LFA in two of the promotion's first three events in his country. The first came in the LFA's first international event at LFA 111, where "Bbzão" knocked out Eduardo Silva in 57 seconds. He then followed up that win by knocking out André Vieira in 64 seconds at LFA 126. He will now face his fellow countryman Silva (6-0-1), who competed twice for the LFA in 2022. The man known as "BRT" won his promotional debut against Matusalém dos Santos by Split Decision and then fought Richard Jacobi to a draw two months later at LFA 132. This title fight also promises to give Brazil its first LFA heavyweight champion. The LFA heavyweight championship has been previously occupied by fighters from the United States and the Dominican Republic.