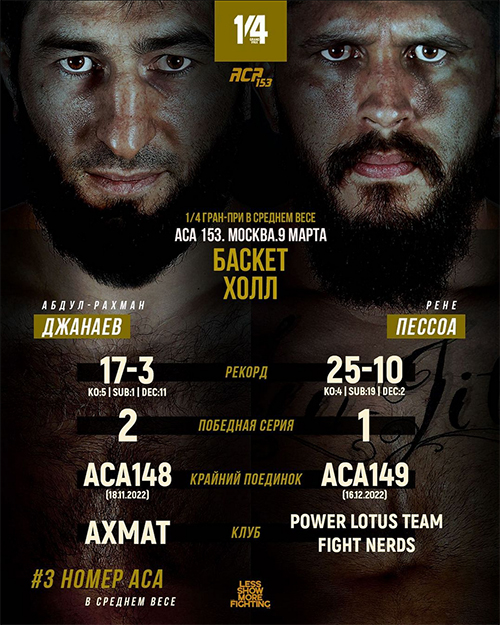 Absolute Championship Akhmat 153: Dzhanaev vs. Pessoa was a mixed martial arts event held by Absolute Championship Akhmat on March 9, 2023 at the CSKA Arena in Moscow, Russia.
Fight Card

Main Card
Middleweight 84 kg Russia Abdul-Rakhman Dzhanaev vs. Brazil Rene Pessoa
2023 ACA Middleweight Grand Prix Quarter-Final bout
Featherweight 66 kg Russia Islam Omarov vs. Brazil Luis Rafael Laurentino
Featherweight 66 kg Tajikistan Davlatmand Chuponov vs. Brazil Carlos Augusto da Silva
Middleweight 84 kg Russia Vasily Kurochkin vs. United States Chris Honeycutt
Flyweight 57 kg Russia Aren Akopyan vs. Brazil Maycon Silvan
Preliminary Card
Light Heavyweight 93 kg Tajikistan Faridun Odilov vs. Brazil Natalicio Filho
Bantamweight 62 kg Ukraine Pavel Vitruk vs. Russia Selem Evloev
Light Heavyweight 93 kg Tajikistan Abdul-Khamid Davlatov vs. Russia Elkhan Musaev
Lightweight 70 kg Kyrgyzstan Zhakshylyk Myrzabekov vs. Russia Abdul-Rakhman Temirov
Featherweight 66 kg Russia Alberd Zhapuev vs. Uzbekistan Zukhriddin Gafurov
Featherweight 66 kg Russia Akhmadkhan Bokov vs. Brazil John Macapá
Flyweight 57 kg Kyrgyzstan Daniyar Toychubek vs. Russia Akhmed Khamzaev
Flyweight 57 kg Russia Anis Ekubov vs. Kyrgyzstan Asan Saparbay
Background
2023 Grands Prix

ACA President Mayrbek Khasiev recently revealed that the promotion will run Grand Prix across all their weight classes, with a total prize pool of $10 million.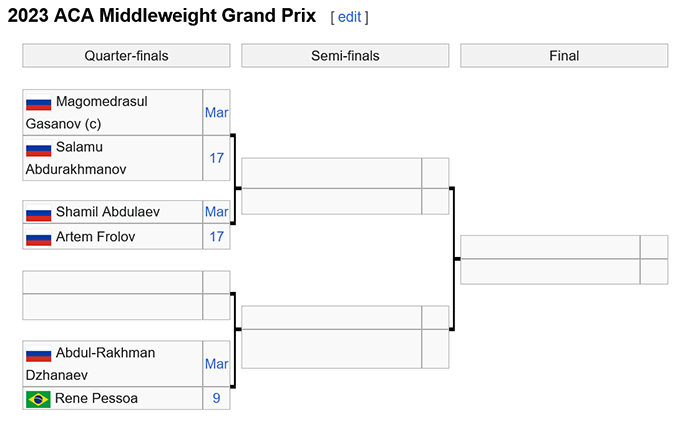 Also for each event the following bonuses will be awarded:

$50,000 Performance of the Night.
$25,000 Performance of the Night.
$5000 Stoppage Victory Bonuses.