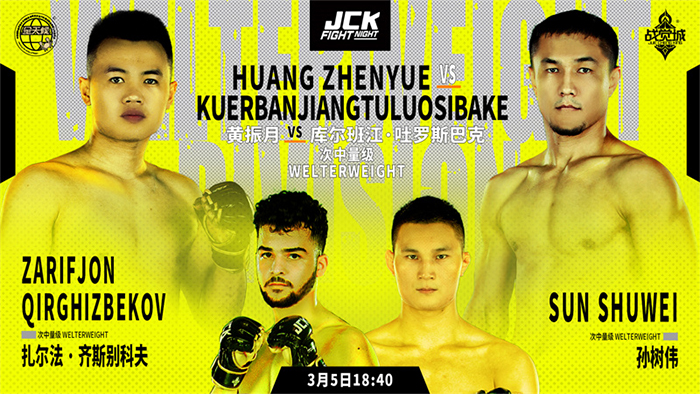 JCK Fight Night Week 20: Tuluosibake vs. Huang is a mixed martial arts event to take place on March 5, 2023 at the JCK International Fight Center in Jiaotong, Shanxi, China.
Fight Card

Main Card (UFC Fight Pass)
Kuerbanjiang Tuluosibake vs. Zhenyue Huang 170 lbs
Zarifjon Qirzhizbekov vs. Shuwei Sun 170 lbs
Boqie Zheng vs. Yixichilie 126 lbs
Xusheng Tian vs. Yawei Ren 154 lbs
Qinghe Zhang vs. Mingquan Xia 134 lbs
Shamuhaer Aidelibieke vs. Mingfa Chen 126 lbs
Zhicheng Tai vs. Lang Li 146 lbs
Zhang Xizhen vs. Kutiman Mamuti 154 lbs
Background
On March 5, 2023, the 20th match of the 2022 season of JCK Zhanjue City will be ushered in. The main event of this battle will be headlined. Barker launched a challenge. This is also the battle for tickets to the JCK Juecheng Night C Division finals. In this "two-wolf battle", who can successfully break through?

"Border Wolf" Kurbanjan Turosbach, 27 years old, once surrendered Ding Meng with an arm cross and became the winner of the JCK welterweight million-dollar bounty in the 2020 season. All wins, and all final wins, the final rate is 100%. Kurbanjiang's boxing and wrestling are very good, especially after joining the Harbin Longyun Fighting Club, he received the guidance of the "Legend of Immortality" Mr. Jiang Longyun, and once again evolved and upgraded, becoming a more dangerous existence. In JCK Zhanjue City 2022 In the first game of the season, Yang Lvnuo was domineering and "strangled" to advance, proving his indestructible strength with a quick victory.

"Wild Wolf" Huang Zhenyue, aged 25, is a Sanda master with a strong finishing ability. In his past professional record, he has KO experience 10 times. In the 11th match of JCK's 2022 season against Juecheng, Huang Zhenyue won Shahedat Aydin's victory with the "destroying" heavy hit TKO proved his strength that cannot be underestimated. As the most promising representative of the new generation, he is eager to bloom in the arena of JCK Zhanjue City own light.

Huang Zhenyue is currently training at the Guangzhou Chunbo Fighting Club of Yuan Chunbo, the featherweight million-dollar reward winner of the JCK Zhanjue City 2020 season. Mr. Jiang's sect, so the two sides of this "Battle of Two Wolves" can be said to be "of the same origin", so what kind of excitement will the two "in the same line" bring on March 5, 2023? let us wait and see!