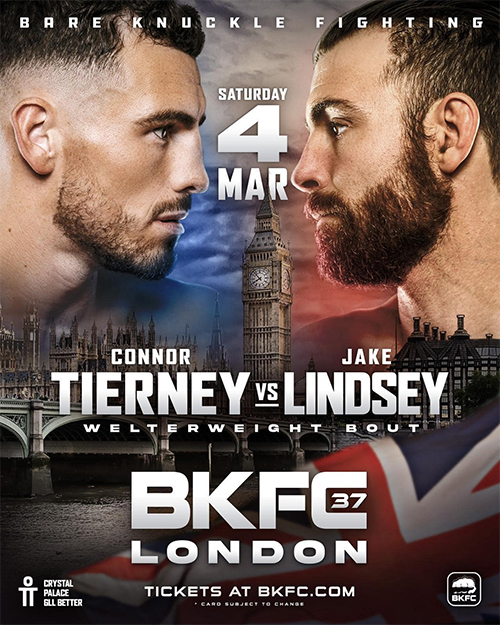 Bare Knuckle Fighting Championship 37: Tierney vs. Lindsey will be a bare-knuckle fighting event held by Bare Knuckle Fighting Championship on March 4, 2023, at the Crystal Palace National Sports Centre in London, England.
Fight Card

Main Card
Welterweight 75 kg United Kingdom Connor Tierney vs. United States Jake Lindsey
Cruiserweight 95 kg United Kingdom Lee Browne vs. United Kingdom Mason Shaw
Light Heavyweight 84 kg England Terry Brazier vs. Wales David Round
Welterweight 75 kg England Rico Franco vs. England Dan Breeze
Welterweight 75 kg United Kingdom Toby Bindon vs. Argentina Franco Tenaglia
Cruiserweight 95 kg United Kingdom Darren Hendry vs. United Kingdom Corey Harrison
Middleweight 79 kg United States Dillion Winemiller vs. United States Tony Jenkins
Lightweight 70 kg United Kingdom Ellis Shepherd vs. United Kingdom Ryan Carmichael
Heavyweight 120 kg United Kingdom Jack Draper vs. England Charlie Milner
Welterweight 75 kg United Kingdom Gary Fox vs. United Kingdom Nathan Hind
Preliminary Card
Middleweight 79 kg England Brad Watchorn vs. England George Thorpe
Lightweight 70 kg United Kingdom Ben Bonner vs. United Kingdom Jay Cucciniello
Light Heavyweight 84 kg United Kingdom Jimmy Millar vs. Scotland Kyle Cassidy
Background
The event is scheduled to be headlined by a bout between Connor Tierney and Jake Lindsey.

Here are our Top 3 storylines heading into this weekend's action.

Welterweight Beasts Feast In The Main Event

Two of bare knuckle fighting's most exciting welterweight stars – England's Connor "Brum Town Bomber" Tierney and American Jake "The Gypsey" Lindsey – square off in the Main Event on Saturday. Tierney enters fight night as the No. 5-ranked BKFC welterweight, and Lindsey is hungry to enter the Top 5 rankings for the first time with a statement win in London. Tierney boasts a 7-1 overall record, while Lindsey is unbeaten in his first three BKFC bouts. Lindsey, a three-time UFC vet, is looking for his fourth straight stoppage in the Squared Circle, while Tierney takes aim at his sixth straight win and fourth KO.

Don't Blink During The Co-Main Event

English fan-favorites Rico "Bon Bon" Franco (6-2, 4 KOs) and Dan "Hurricane" Breeze (1-1, 1 KO) both enter the Squared Circle for the first time on Saturday, and both hard-hitting welterweights are keen on making a first impression to remember to BKFC's global audience. Franco has long been regarded as one of England's top bare knuckle fighters and Breeze brings a spotless 10-0 pro boxing record into his BKFC debut. The welterweight division is one of the most stacked weight classes under the BKFC banner; Franco and Breeze are both ready to rise to the occasion and win big in this must-see Co-Main Event clash.

Fully Loaded Card From Top To Bottom

Fans are still buzzing from the two sold-out shows that BKFC promoted in the United Kingdom in 2022, and Saturday's card features several returning favorites, including Darren Hendry (2-1, 2 KOs), David "One More" Round (2-1, 2 KOs), Lee Browne (1-0, 1 KO) and Bellator vet Terry "The Dominator" Brazier (0-1).