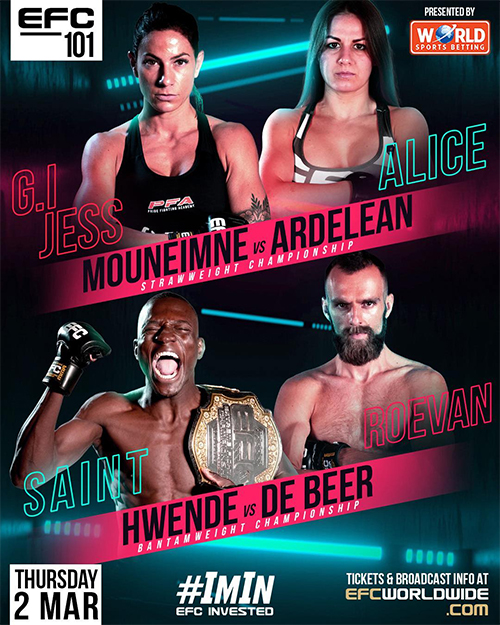 EFC 101: Mouneimne vs. Ardelean an upcoming mixed martial arts event scheduled for March 1, 2023 at the EFC Performance Institute in Sandton, South Africa.
Fight Card

Main Card
Jessica Mouneimne vs. Alice Ardelean 115 lbs
Vacant Strawweight Championship
Cole Henning vs. Tshilomba Mikixi 255 lbs
Bantamweight Championship
Nicholas Hwende vs. Roevan De Beer 135 lbs
Vince Bembe vs. Sizwe Mnikathi 145 lbs
Crystal Van Wyk vs. Ukah Juliet 115 lbs
Johannes Rudolph vs. Martin Gcinumkhondo 125 lbs
Preliminary Card
Shadrack Nsua vs. Mark Kamba 185 lbs
Shannon van Tonder vs. Tshepo Majuba 145 lbs
Kevin Pretorious vs. Elvis Ngwalangwala 155 lbs
Takunda Gorimbo vs. Nathanial Komana 135 lbs
Jesse Schaper vs. Mbiya Kalala 135 lbs
Angelo Foloti vs. Elbert Lukas Steyn 155 lbs
Raymond Acutt vs. Zwe Ngema 145 lbs
Bheki Ngcobo vs. Vincent Nakana 135 lbs
Micky Cloete vs. Tyral Louw 125 lbs
Background
The African mixed martial arts season kicks off in style on the 2nd of March at EFC 101 which will feature two championship clashes headlining an action-packed main card. The Fighter Season 2 standout from Romania, Alice Ardelean will face Cape Town's undefeated Jessica 'GI Jess' Mouneimne to decide who will leave the City of Gold with the women's strawweight belt. Zimbabwean bantamweight sensation Nicholas 'The Saint' Hwende will defend his 135lb title against Musa 'Bad News' Sethwape from Pretoria. The Brothers In Arms grappler is riding an impressive four-fight winning streak which includes two first-round finishes to book his date with the champ, the electrifying Hwende, who has dispatched every professional opponent the EFC has ever placed before him in dramatic fashion. Coming off his last title defence against the stalwart Nkazimulo Zulu at EFC 100, Hwende is already being spoken about as a future UFC star, but in the Hexagon he calls his home, fans will always be treated to a virtuoso performance of combat.

A tabloid star in her adopted home of Great Britain, Alice Ardelean trains with the Ronin UK Fight Team in Birmingham with EFC Lightweight Champion Joe 'Silk' Cummins. She was already a rising star having fought UFC Strawweight Champ Zhang Weili before entering the EFC Performance Institute for the filming of 'The Fighter Season 2'. After progressing through the show by beating both Christina Stelliou and Jaqualine Trossee, the medical staff were unable to clear her for the semi-finals. Since then she then went on to amass an impressive five-fight winning streak which now puts her in line for a shot at title glory. Standing across from her in the Hexagon though, is natural-born finisher Jess Mouneimne. Fighting out of Pride Fighting Academy, there has not been a star in the women's rankings that has risen so dramatically as 'GI Jess'. Showing an all-round skill set she has been able to finish her opponents any way she chooses, either by a stellar offensive submission game or by crisp and withering striking. Featuing as the main event of EFC 101, the strawweight title fight is proof that the EFC's women's divisions are as thrilling and competitive as any point in the promotion's lauded history.

EFC Matchmaker Graeme Cartmell –
"Our women's divisions are the jewel in our crown which is why this title fight is headlining. This fight is setting a precedent for the kind of year we have in store for the female divisions with the depth of talent that we now have. With her story and background, Jess is the star of African MMA coming up against Alice who is a globally-recognised star after coming through our reality TV show. Our women's title fights always yield a Manon Fiorot or an Amanda Lino who go on to become benchmark athletes, and these kinds of fights always create a legacy which is why we're so excited for this one".

Preceded by nine preliminary fights, the main card curtain-raiser features the lightning-quick flyweights Martin Gcinumkhondo taking on Johannes Rudolph before Crystal 'The Lovely' Van Wyk battles the undefeated Nigerian prospect Juliet Ukah for the women's strawweight number one contender spot. Two possible 145lb title contenders also go to war with veteran CIT bruiser Sizwe Mnikathi meeting the highly-dangerous Vince Bembe in the middle of the Hex, with both featherweights coming off impressive first-round victories in their last outings. In total, EFC 101 features 14 bouts and two title fights, as Africa's premier combat sports promotion sets out its stall to have its best year yet in a 14-year history to cement its place as one of the greatest sports leagues in the world today!