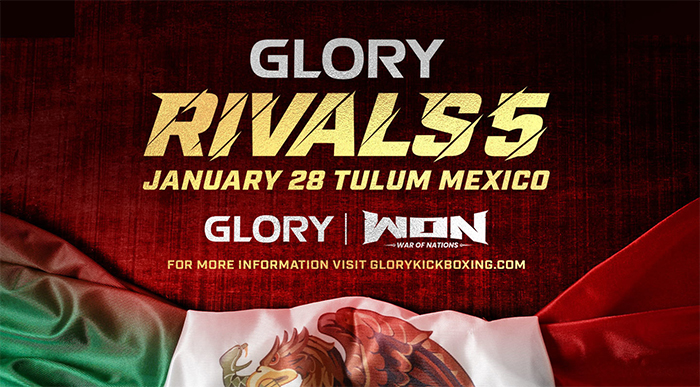 Glory Rivals 5: Vidales vs. Aquirre will be a kickboxing event held by Glory in partnership with War of Nation on January 28, 2023, in Tulum, Mexico.
Fight Card

Main Card
Featherweight 65 kg Mexico Abraham Vidales vs. Argentina Tomás Aguirre
Welterweight 77 kg Argentina Javier Aparicio vs. Brazil Jonas Julio
Middleweight 85 kg Chile Ivan Galaz vs. Brazil Renan Altamiro
Featherweight 65 kg Germany Dennis Wosik vs. Argentina Marcos Rios
Lightweight 70 kg Brazil Bruno Gazani vs. United States Nick Chasteen
Super Bantamweight 55 kg Netherlands Tessa De Kom vs. Argentina Giuliana Cosnard
Background
GLORY, the world's premier kickboxing organization, announced the full fight card for GLORY RIVALS 5, taking place January 28th in Tulum, Mexico in collaboration with War of Nations.

In the main event, former GLORY Featherweight Title Challenger Abraham Vidales will face Tomás Aguirre, a native of Argentina who has finished 22 of his 26 wins.

In the co-main event, top-10 GLORY middleweight contender Ivan Galaz will meet Renan Altamiro. The bout will mark Galaz's first appearance inside the GLORY ring since 2019.

Also featured on the card, GLORY debutants Jonas Julio and Javier Aparicio will square off in a welterweight clash, and top-five GLORY featherweight contender Denis Wosik will go for his third consecutive victory as he takes on Marcos Rios.

Additionally, top-ten GLORY lightweight contender Bruno Gazani will fight Nick Chasteen, and Tessa de Kom will replace Sarah Moussaddak (injury) and meet Giuliana Cosnard in a Super Bantamweight bout to open the card.