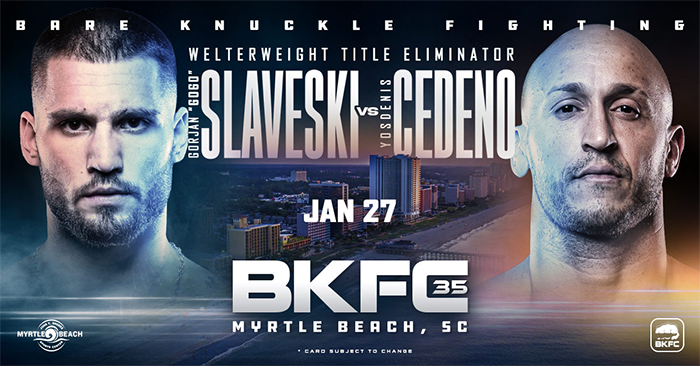 Bare Knuckle Fighting Championship 35: Cedeno vs. Slaveski will be a bare-knuckle fighting event held by Bare Knuckle Fighting Championship on January 27, 2023, at the John T. Rhodes Sports Center in Myrtle Beach, South Carolina, United States.
Fight Card

Main Card
Welterweight 75 kg Cuba Yosdenis Cedeno vs. North Macedonia Gorjan Slaveski
Welterweight Championship title eliminator
Bantamweight 61 kg United States Keith Richardson vs. United States Justin Scoggins
Women's Strawweight 52 kg United States Andy Nguyen vs. Russia Nekah Dmitryeva
Cruiserweight 93 kg United States Donterry Woods vs. United States Jonathan Miller
Lightweight 70 kg United States Brandon Bushaw vs. United States Paul Teague
Featherweight 66 kg United States Marcus Brimage vs. United States Trevor Loken
Lightweight 70 kg United States Tony Soto vs. United States Joshua Marer
Flyweight 57 kg Canada Devin Gibson vs. United States Albert Inclan
Welterweight 75 kg United States Jordan Weeks vs. Turkey Murat Kazgan
TBA United States Tomar Washington vs. United States Willie Sears
Preliminary Card
Featherweight 66 kg United States Robert Armas vs. United States Jakobi Lowery
Featherweight 66 kg United States James Brown vs. United States Stevo Morris
Middleweight 79 kg United States Doug Coltrane vs. United States Brian Jackson
Background
The event is scheduled to feature a welterweight title eliminator bout between Yosdenis Cedeno and Gorjan Slaveski.

The event was also expected to have a rematch between BKFC Bantamweight Champion Johnny Bedford and former champion Dat Nguyen; however, the bout was cancelled after Bedford retired from combat sports just a few days into the camp.


Unbeaten Welterweights Meet In The Main Event

Undefeated welterweight contenders Gorjan "GoGo" Slaveski (4-0, 3 KOs) and Yosdenis "Pink Panther" Cedeno (2-0) throw down in Friday's Main Event. This is not a fight to miss. The BKFC welterweight division is one of the most stacked weight classes in the sport, and these two unbeaten fighters are ready to prove they can hang with the best of the best in 2023.

MMA Stars Drop Their Gloves In The Co-Main Event

Hard-hitting bantamweight prospects crossover from MMA to BKFC for the first time in Friday's highly anticipated Co-Main Event. Nine-time UFC vet Justin "Tank" Scoggins makes his debut in the Squared Circle against Bellator vet Keith "The Rockstar" Richardson, who will also be dropping his gloves for the first time Friday. A winner of two straight, Scoggins' impressive 13-6 MMA record includes six knockouts. Richardson, meanwhile, is 22-11 on the strength of four straight stoppage victories heading into his bare knuckle fighting debut in Myrtle Beach.

Stacked Card From Top To Bottom

While Friday night's Main Event and Co-Main Event have fans around the world buzzing for this weekend's action, there are a number of other can't-miss fights set for South Carolina. In the Feature Fight, Andy "The CrAsian" Nguyen looks to improve to 2-0 against Nekah Dmitriyeva (0-1) in a battle of fan-favorite strawweights. In lightweight action, Tony "Loco" Soto (3-0, 2 KOs) welcomes professional boxer Wayna Reid to the BKFC Squared Circle for the first time. Eight-time UFC vet Marcus "The Bama Beast" Brimage (0-0-1) hunts for his first victory in the Squared Circle against the debuting Trevor Loken in the featherweight division. The top Canadian fighter on the BKFC roster, Devin Gibson (2-0, 1 KO), battles the scrappy Albert Inclan (0-1) in bantamweight action.