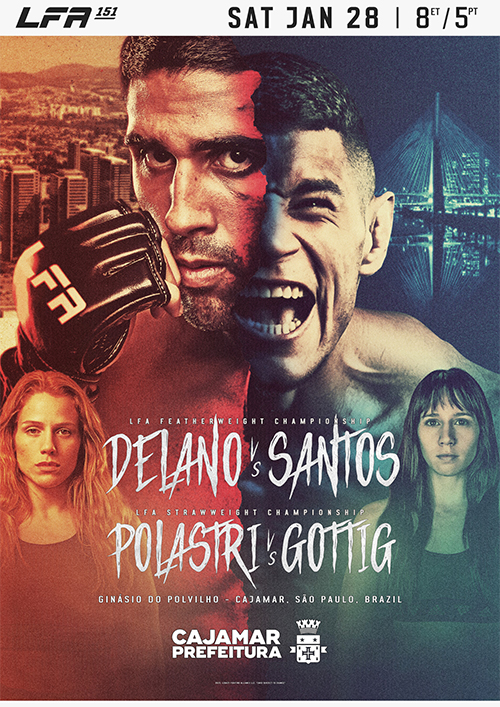 LFA 151: Delano vs. Santos is a mixed martial arts event promoted by Legacy Fighting Alliance and will take place on January 28, 2023 at the Ginásio do Polvilho in Cajamar, Brazil.
Fight Card

Main Card (UFC Fight Pass)
Featherweight José Delano vs. Gabriel Santos
Featherweight Tournament Final for vacant Featherweight Championship
Women's Strawweight Julia Polastri vs. Brenda Gottig
Vacant Women's Strawweight Championship
Featherweight Jonas Bilharinho vs. Caio Machado
Flyweight Marciano Ferreira vs. Mateus Brauns
Middleweight Marco Tulio Silva vs. Well Oliveira
Lightweight Milson Castro vs. Anderson Ferreira
Preliminary Card
Lightweight Matheus Rocha vs. Jefferson Nascimento
Women's Strawweight Pâmela Mara vs. Alexia Thainara
Lightweight Lucas Barros vs. Cassio Barão
Lightweight Lucas Escobar vs. Gabriel Souza Galindo
Lightweight Joabson Alves vs. Manuel Robson Minoto
Welterweight Clever Souza vs. Michael Oliveira
Women's Strawweight Gabriela Fujimoto vs. Laryssa Leila
Background
LFA will return to Brazil in January with a Championship Doubleheader at LFA 151, which will feature the LFA Featherweight Tournament Final. This will be the second LFA event to be held on a Saturday and it comes just seven days after UFC 283, which will be the UFC's first event in Brazil in nearly three years. UFC 283 will also feature a Championship Doubleheader as both events are stacked with action-packed fights to coincide with the UFC launch of UFC FIGHT PASS® in Brazil. The launch will take place January 1, 2023 and will provide Brazil with a fully localized version of its pioneering combat sports streaming service.

LFA 151: Delano vs. Santos takes place Saturday, January 28th at the Ginásio do Polvilho in Cajamar, São Paulo, Brazil. The main event will feature a featherweight title fight between top prospects José "Ze" Delano and Gabriel "Mosquitinho" Santos. The co-main event will feature a women's strawweight title fight between Julia "The Dragon" Polastri and "Arenita" Brenda Gottig.

"We are excited to bring two championship fights to Brazil at LFA 151," stated Soares. "The main event will feature the LFA Featherweight Tournament Final between top prospects José Delano and Gabriel Santos. The winner will become the new LFA featherweight champion. Delano and Santos secured their spots by winning their Semi-Final bouts in brutal fashion. The highlight reel knockouts also earned them both nominees for LFA Male Fighter of the Year and LFA Knockout of the Year. Then in the co-main event, we will crown a new women's strawweight champion when Julia Polastri of Brazil faces Brenda Gottig of Argentina in a heated South American rivalry."

Delano (12-2) is looking to finish a job he started nearly a year ago. The Brazilian was training for his LFA debut at LFA 126, where he was set to face top undefeated prospect Gabriel Braga to kick off the main card. However, when Rafael Barbosa withdrew from the title fight during Fight Week, Delano jumped at the opportunity to fight Jonas Bilharinho for the LFA featherweight title in the main event. Delano defeated Bilharinho that night and Michael Stack three months later at LFA 133, but was not eligible to win the title in either bout due to missing weight. The talented Murilo Bustamante protégé then entered the LFA Featherweight Tournament at LFA 143 looking to make a statement on the scales and in the Octagon. The 26-year-old did both by knocking out Jair Jesuino and now finds himself in the LFA Featherweight Tournament Final looking to finally capture the title.

Santos (9-0) is a 26-year-old undefeated prospect from Beberibe, which is a coastal municipality in the state of Ceará located in the Northeast Region of Brazil. The proud Cearense now trains under Andre Dida at Evolução Thai MMA in Curitiba, Paraná in southern Brazil. The regional kingpin won all nine of his fights since turning pro two months before his 18th birthday. The man known as known as "Mosquitinho" earned a spot in the LFA Featherweight Tournament after winning the Future FC featherweight title, which is one of the most prestigious regional titles in Brazil. The dynamic Brazilian would enter the tournament in the main event of LFA 146 against feared finisher Márcio Barbosa. The two would engage in one of the most violent, back-and-forth fights of the year with Santos eventually putting an end to things via knockout after landing a highlight reel head kick.

The co-main event of LFA 151 will feature a women's strawweight title fight that will ignite South America's most famous sporting rivalry between Brazil and Argentina. Brazil will be represented by Dana White's Contender Series alum Julia "The Dragon" Polastri (10-3). She returns to the LFA Octagon after winning her debut for the promotion by knocking out Bianca Sattelmayer last month at LFA 146. Argentina will be represented by top undefeated prospect "Arenita" Brenda Gottig (6-0). She is the first female fighter from Argentina to fight for the LFA and will look to become the first Argentinian to capture LFA gold. Polastri and Gottig will vie to become the LFA's fifth women's strawweight champion. The strawweight championship is considered one of the LFA's most glamorous titles as all four women that have won it currently fight in the UFC. Those four women are Vanessa Demopoulos, Lupita Godinez, Piera Rodriguez, and Jaqueline Amorim.