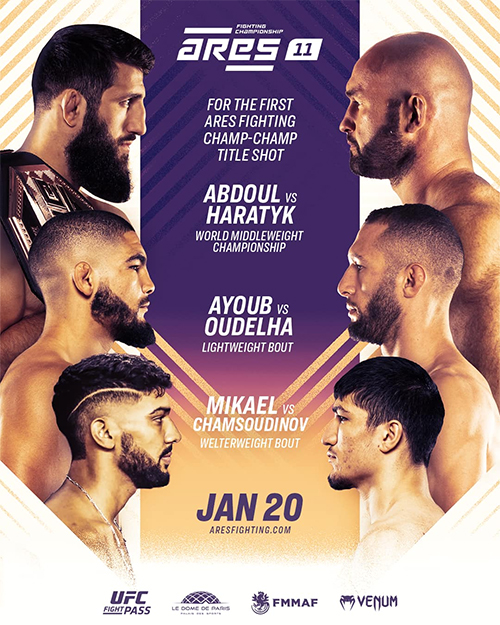 Ares FC 11: Abdoul vs. Haratyk is an upcoming mixed martial arts event scheduled to take place on January 20, 2023 at the Dôme de Paris in Paris, France.
Fight Card

Main Card (UFC Fight Pass)
Abdoul Abdouraguimov vs. Rafał Haratyk 185 lbs
Vacant Middleweight Championship
Ghiles Oudelha vs. Amin Ayoub 155 lbs
Alexander Mikael vs. Baissangour Chamsoudinov 170 lbs
Paweł Biernat vs. Faycal Hucin 265 lbs
Levi Steedman vs. Alexandra Tekenah 125 lbs
Assia Miri vs. Fabiola Pidroni 115 lbs
Ammari Diedrick vs. Karim Ghajji 170 lbs
Preliminary Card
Mickaël Groguhe vs. Freddy Kemayo 265 lbs
Jordan Zébo vs. Caleb Nascimento 170 lbs
Elvis Thapda vs. Kenzo Soares Silva 155 lbs
Hugo Guillon vs. Frank Martin 185 lbs
Background
ARES 11 is set for Friday January 20, 2023 and will therefore be the first event of the year for the French MMA organization.

The audience at the Dôme de Paris will have get opportunity to watch Abdoul Abdouraguimov face Polish Rafal Haratyk for the vacant Middleweight Championship.

Abdoul Abdouraguimov, born in Dagestan is a French mixed martial arts practitioner and Brazilian Jiu-jitsu black belt of Russian origin. At the age of 14 , he left Russia . After passing through Germany , he arrived in France, in Nantes .

It was in France that he discovered wrestling, then, later, Brazilian Jiu-jitsu and grappling . He then turned to MMA and began his professional career in 2016.

He represents the Brazilian Jiu-Jitsu club De la riva Nantes and the MMA Factory . He currently fights in the Ares FC organization.

He is first in the Western European ranking of Welterweight MMA fighters according to tapology excluding UFC & Bellator fighters.

Rafał Haratyk is a Polish MMA fighter, and was the first Pole fighting for the African organization EFC. In the past he also fought for PLMMA, FEN , Babylon MMA and ACA.