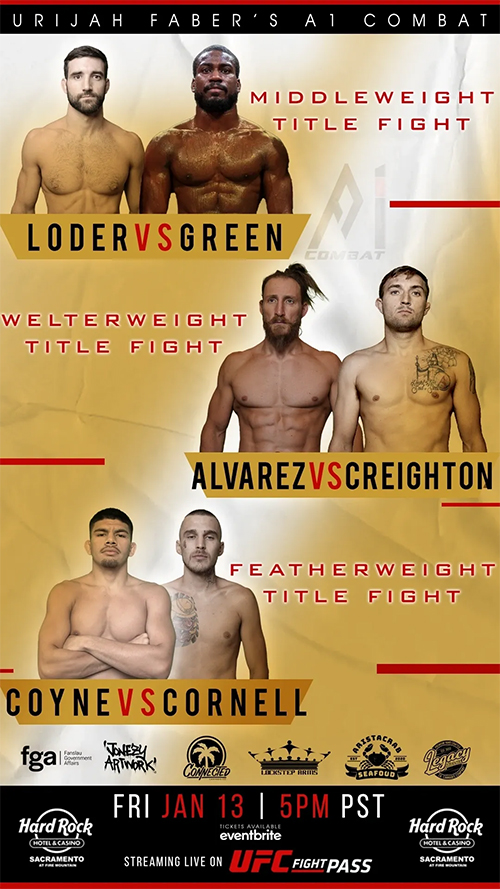 Urijah Faber's A1 Combat 7: Coyne vs. Cornell is a mixed martial arts event promoted by Legacy Fighting Alliance and will take place on January 13, 2023 at the Hard Rock Hotel and Casino Sacramento in Wheatland, California, United States.
Fight Card

Main Card (UFC Fight Pass)
Andrew Coyne vs. Justin Cornell 145 lbs
Vacant Featherweight Championship
Cesar Gonzalez vs. Adrian Guzman 155 lbs
Obadiah Johnson vs. Anthony Figueroa 155 lbs
Ryan Loder vs. Troy Green 185 lbs
Vacant Middleweight Championship
Terrance Saeteurn vs. Keaneo Moyer 125 lbs
Ozzie Alvarez vs. Tyson Miller 170 lbs
Vacant Welterweight Championship
Preliminary Card
Chris Inocencio vs. Brennon Crow 145 lbs
Joseph Lee vs. Sal Bruno 135 lbs
Ignacio Ortiz vs. Ernie Juarez 145 lbs
Background
Urijah Faber's A1 Combat returns to the Hard Rock Hotel and Casino Sacramento ready to put on the biggest event in the history of the promotion. On Friday, January 13, Urijah Faber will put championship belts on the waists of the first A1 Combat middleweight, welterweight, and featherweight champions in the history of the promotion. " The first show of the year is a monster stacked card with three title fights, the Night of Champions" stated Faber

In the main event of the evening, Andrew "Bulldog" Coyne, 5-1 faces off against Justin Cornell, 4-1, for the A1 Combat Featherweight Title. Having edged out his last opponent, Dorian Ramos by way of a split decision at A1 Combat 2, "Bulldog" will be looking to jump-start his 2023 with a four-fight winning streak, and with the A1 Combat Featherweight title in hand.

Standing in his way however will be Cesar Gracie Jiu Jitsu's, Justin Cornell. For Cornell, he'll be making his second appearance under the Urijah Faber A1 Combat banner and will be looking to replicate the success he found at A1 Combat 4, where he managed to earn an armbar finish against Adrian Guzman in the very first round.

With the A1 Combat Welterweight and Middleweight Titles available for the taking and with exciting matchups to take place throughout the card, including a bout between two of the top-ranked flyweights on the west coast in Terrance Saeteurn vs. Keaneo Moyer, A1 Combat 7 is going to be an event you won't want to miss.