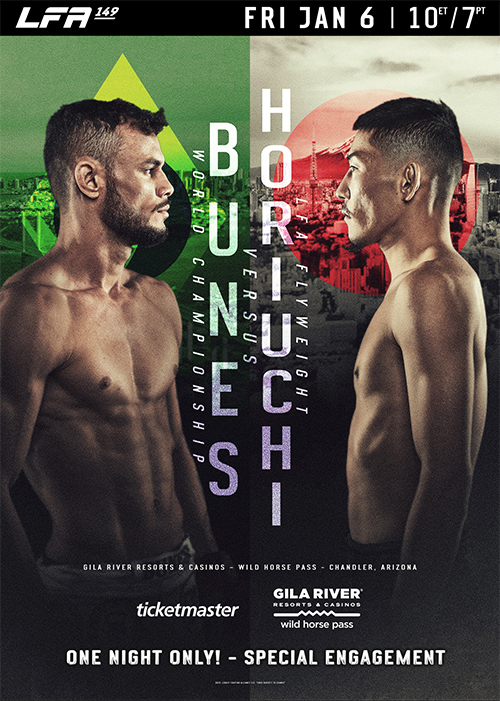 Legacy Fighting Alliance 149: Bunes vs. Horiuchi is a mixed martial arts event promoted by Legacy Fighting Alliance and will take place on January 6, 2022 at the Gila River Resorts & Casinos in Chandler, Arizona, United States.
Fight Card

Main Card (UFC Fight Pass)
Flyweight Felipe Bunes vs. Yuma Horiuchi
Vacant Flyweight Championship
Heavyweight Ben Tynan vs. Henrique Silva
Bantamweight Marcus McGhee vs. Luciano Ramos
Flyweight An Ho vs. Edwin De Los Santos
Preliminary Card
Middleweight Eric McConico vs. Billy Elekana
Middleweight Eric Fimbres vs. Tony Charles
Lightweight Cedric Katambwa vs. Adam Garcia
Featherweight Paul Marghitas vs. Bradley Emmett
Amateur bout
Women's Strawweight Grace DiFrancesco vs. Kayla Reagan
Bantamweight Ezra Elliott vs. Nicholas Gjelaj
Background
LFA announced that the promotion will kick off the New Year with a flyweight title fight in the "Valley of the Sun" at LFA 149. This will be the LFA's first visit to the city of Chandler, Arizona. The LFA 149 headliner will crown the promotion's tenth 125-pound champion in what will be the LFA's eleventh trip to the Grand Canyon State.

LFA 149: Bunes vs. Horiuchi takes place Friday, January 6th at the Gila River Resorts & Casinos – Wild Horse Pass Casino in Chandler, Arizona, which is a suburb of Phoenix. The main event will feature a flyweight title fight between top Brazilian prospect Felipe "Felipinho" Bunes and top Japanese prospect Yuma "Ichiban" Horiuchi.

"We are excited to kick off 2023 by bringing the Flyweight Championship to Arizona at LFA 149," stated LFA CEO Soares. "Felipe Bunes and Yuma Horiuchi are two of the top flyweight prospects in the world and they have been on a collision course. They were supposed to fight last month, but an injury delayed the inevitable. In that time, LFA flyweight champion Carlos Mota signed with the UFC. Now the stakes are even higher as the winner of Bunes vs. Horiuchi will become the 10th man to be crowned LFA flyweight champion."

Bunes (12-6) will be getting his first shot at LFA gold after signing with the LFA in 2022. The Pitbull Brothers product, who is also a main training partner of UFC flyweight champion Deiveson Figueiredo, was immediately booked for headlining and co-headlining bouts in his first two appearances for the promotion. In his debut for the promotion, he was slated to face former UFC flyweight star Jussier Formiga at bantamweight, but Formiga missed weight badly at 139-pounds. In his second bout for LFA, Bunes went back to his natural weight class of 125-pounds. It was there that the BJJ black belt shined in the co-main event of LFA 135, where he defeated Dominican standout Wascar Cruz via Unanimous Decision. He was then set to face Horiuchi at LFA 144 last month, but an injury delayed their encounter. He will now get to face his Japanese rival with LFA gold on the line at LFA 149.

Horiuchi (10-5) became the first professional fighter from Japan to fight for the LFA, when he signed with the promotion in 2020. The man known as "Ichiban" quickly became a fan favorite due to his flashy kickboxing prowess, but it was his long-awaited drop to flyweight that created the biggest commotion. This happened when Horiuchi made quick work of Dana White's Contender Series alum Donavon Frelow via armbar in his 125-pound debut for the promotion. That led to his first title fight for the promotion against Charles Johnson in what was a back-and-forth affair that had fans and judges alike torn at LFA 110. The official result was a Split Decision in favor of Johnson, who then defended the title twice before signing with the UFC. Meanwhile, Horiuchi has picked up a pair of scintillating stoppage finishes for the LFA over top prospects Mark Climaco and Juan Puerta.
Jan 6 - Updated fight card