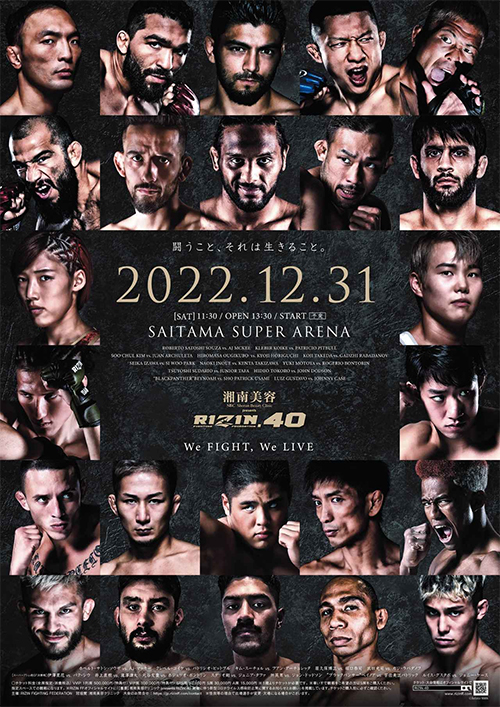 Rizin 40: Rizin X Bellator (also known as Izawa vs. Park) will be a Combat sport event held by Rizin Fighting Federation and Bellator MMA on December 31, 2022, at the Saitama Super Arena in Japan.
Fight Card

Bellator MMA vs. Rizin (Showtime / FiteTV PPV)
Featherweight 66 kg Japan Kleber Koike Erbst vs. Brazil Patrício Pitbull
Lightweight 70 kg Brazil Roberto de Souza vs. United States A. J. McKee
Bantamweight 61 kg South Korea Soo Chul Kim vs. United States Juan Archuleta
Flyweight 57 kg Japan Hiromasa Ougikubo vs. Japan Kyoji Horiguchi
Lightweight 70 kg Japan Koji Takeda vs. Russia Gadzhi Rabadanov
Rizin 40
Super Atomweight 49 kg Japan Seika Izawa vs. South Korea Si Woo Park
Women's Super Atomweight Grand Prix Finals
Heavyweight 120 kg Japan Tsuyoshi Sudario vs. New Zealand Junior Tafa
Bantamweight 61 kg Japan Naoki Inoue vs. Japan Kenta Takizawa
Bantamweight 61 kg Japan Yuki Motoya vs. Brazil Rogério Bontorin
Lightweight 71 kg United States Johnny Case vs. Brazil Luiz Gustavo
Flyweight 57 kg Japan Hideo Tokoro vs. United States John Dodson
Lightweight 71 kg Japan Sho Patrick Usami vs. United States BeyNoah
Background
Seika Izawa and Si Woo Park will face off for the right to be called the tournament winner.

Izawa (8-0) is the reigning Rizin 108lbs champion and will be looking to underline her dominance over the division with a win here. The two first met at Deep 104 last year with the Japanese fighter winning by decision.

Park (9-4) was not among the favourites for the tournament. But she narrowly beat Rena Kubota at Rizin 33 last New Year's Eve and has also claimed decision wins over Kanna Asakura and Ayaka Hamasaki to book her spot in the final.

Current RIZIN and BELLATOR Featherweight Champion clash, Kleber vs. Pitbull!

Kleber is riding a 7-fight winning streak and all of them are coming from submission wins while Pitbull has been on a roll his entire year, recently brushing off a tough opponent to defend his title and continues to prove that he is one of the top Featherweights in the world today.

Kleber utilizes his Jiu Jitsu skills and has 27 tapout victories while Pitbull is not only a Jiu Jitsu blackbelt himself but has 11 knockouts and 12 submission finishes. On paper Pitbull has the upper hand but Kleber must utilize what he has to secure the win. Kleber's unusual finish rate is because he can finish with the slightest openings and this ability will apply to any opponent he faces, including Pitbull.

The RIZIN Featherweight Champion must take the fight where he has the biggest chances on finishing the fight. Let's take Kleber's Japanese dream and make it into a World dream.