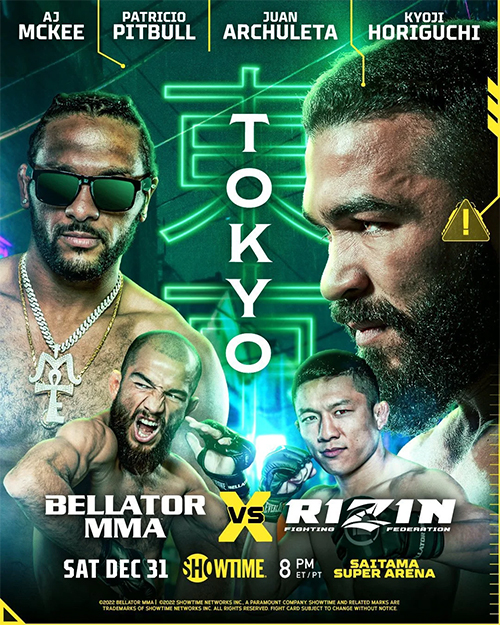 Bellator MMA vs. Rizin FF & Rizin 40 is an upcoming mixed martial arts event being co-promoted by Bellator MMA and the Rizin Fighting Federation on December 31, 2022, at the Saitama Super Arena in Saitama, Japan.
Fight Card

Bellator MMA vs. Rizin (Showtime / FiteTV PPV)
Featherweight Patrício Pitbull vs. Kleber Koike Erbst
Lightweight A. J. McKee vs. Roberto de Souza
Bantamweight Juan Archuleta vs. Soo Chul Kim
Flyweight Kyoji Horiguchi vs. Hiromasa Ougikubo
Lightweight Gadzhi Rabadanov vs. Koji Takeda
Rizin 40
Super Atomweight Seika Izawa vs. Si Woo Park
Women's Super Atomweight Grand Prix Finals
Bantamweight Naoki Inoue vs. Kenta Takizawa
Heavyweight Tsuyoshi Sudario vs. Junior Tafa
Bantamweight Yuki Motoya vs. Rogério Bontorin
Lightweight Johnny Case vs. Luiz Gustavo
Flyweight John Dodson vs. Hideo Tokoro
Lightweight BeyNoah vs. Sho Patrick Usami
Background
The main card will see fighters from each promotion fight each other, with the current Bellator representatives, announced including a current champion and at least three former champions: Patrício Pitbull, A. J. McKee, Juan Archuleta and Kyoji Horiguchi.

The main card will air in the U.S. on Showtime, Bellator's regular broadcast partner.