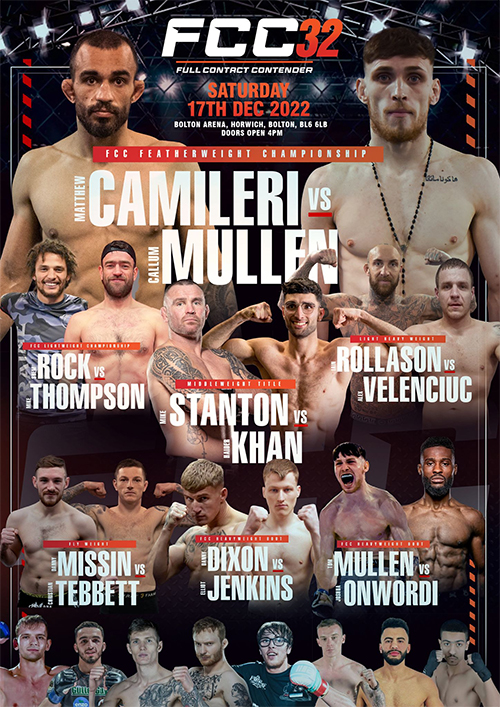 Full Contact Contender 32: Rock vs. Thompson will be a mixed martial arts event scheduled for December 17, 2022, at the Bolton Arena in Bolton, England, United Kingdom.
Fight Card

Main Card (UFC Fight Pass)
Shem Rock vs. Mike Thompson 155 lbs
Lightweight Championship
Haider Khan vs. Mick Stanton 185 lbs
Middleweight Championship
Danny Dixon vs. Elliot Jenkins 155 lbs
Tom Mullen vs. Joshua Onwordi 155 lbs
Connor Wilson vs. Sam Halliday 125 lbs
Daniel Missin vs. Christian Tebbett 125 lbs
Kurtis Campbell vs. Hakem Al-Shamari 145 lbs
Marlon Jones vs. Jack Claffey 135 lbs
Ieuan Davies vs. Billy Boukil 155 lbs
Iain Rollason vs. Alexandru Valenciuc 205 lbs
Preliminary Card
Menilek Techane vs. Jamie Davies 170 lbs
Amateur Welterweight Championship
Jamie Acton vs. Shah Kamali 265 lbs
Harvey Roberts vs. Jamie Cottier 145 lbs
Afeez Oferinde vs. Harry Brown 170 lbs
Joel Caine vs. Micky Leithner 155 lbs
Adam Shepherd vs. Jordan Jones 145 lbs
Christian Soda vs. Ollie Brunt 170 lbs
Tom Nolan vs. Adam Hussein 145 lbs
Andy Piper vs. Zak Lynette 155 lbs
Rob High vs. Curtis Sanderson 150 lbs
Taha Chouiba vs. Ethan Bond 155 lbs
Background
Shem Rock and Mike Thompson are in the battle for the Northwest in a Lightweight championship clash that will have the crowd electric.

Haider Khan will take on Mick Stanton to solidify who is the top UK middleweight talent, with the winner taking home the FCC Middleweight Title.

That's right, FCC 32 will be a TRIPLE Championship Title event!