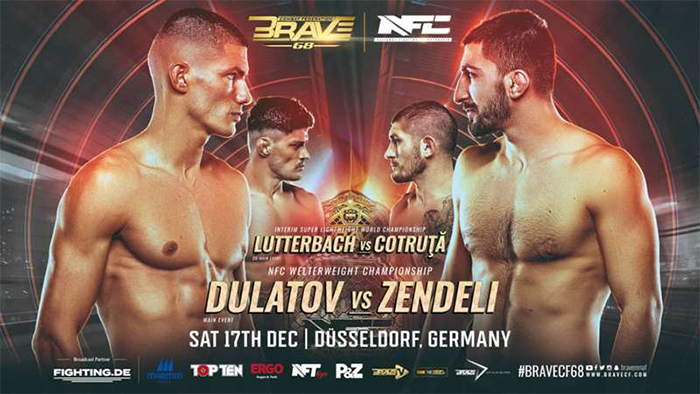 Brave CF 68: Lutterbach vs. Kotruţă is an upcoming mixed martial arts event to be held by Brave Combat Federation in association with NFC on December 17, 2022 at the Maritim Hotel in Dusseldorf, Germany.
Fight Card

Main Card
Welterweight Islam Dulatov vs Florim Zendeli
NFC Welterweight Championship
Super Lightweight Joilton Lutterbach vs Mihail Cotruta
BRAVE CF Interim Super Lightweight Championship
Super Lightweight Ismail Naurdiev vs Vadim Kutsyi
Featherweight Maurice Adorf vs Anastasios Chatzigeorgiadis
Lightweight Husein Kadimagomaev vs Agshin Babaev
Super Lightweight Issa Isakov vs Axel Sola
Preliminary Card
Featherweight Mohammed Trabelsi vs Chakir Haddou
Middleweight Julian Pennant vs Aleksandar Djukic
Featherweight Abubakar Sabirov vs Ali Guliyev
Lightweight Christia Mach vs Gokhan Aksu
Bantamweight Max Holzer vs Andrey Tyshchenko
Lightweight Davlet Karataev vs Pantelei vs Taran
Background
Christmas will come early for millions of German MMA fans as BRAVE CF 68 - in association with National Fighting Championship - is set to entertain with an exciting fight card taking place in Dusseldorf on December 17th. In total, 10 nations will be represented in the 12 fights expected for the event: Germany, Macedonia, Moldova, Austria, Belarus, Switzerland, Azerbaijan, Belgium, France, and Ukraine.
 
The hybrid card sees Germany's fan-favorite Islam Dulatov - riding a seven-fight win streak - taking on dangerous Macedonian Florim Zendeli for the vacant NFC Welterweight title in the main event of the night. 
 
The co-main event sees German-Brazilian Joilton Lutterbach face Moldova's Mihail Cotruta for the interim Super Lightweight Championship bout with an eye on unifying the title down the line against the undisputed champion, Bahrain's Eldar Eldarov.
 
The third last bout of the night will see the return of fire-cracker, Ismail Naurdiev, who aims to get his title campaign back on track when he faces Belarus' Vadim Kutsyi in a Super Welterweight fight.
 
This event takes place in Dusseldorf on December 17th, the final show on the 2022 BRAVE CF calendar. It follows the tremendous success achieved by the partnership between BRAVE CF and NFC with BRAVE CF 61 / NFC 10, which took place in August, in Bonn.