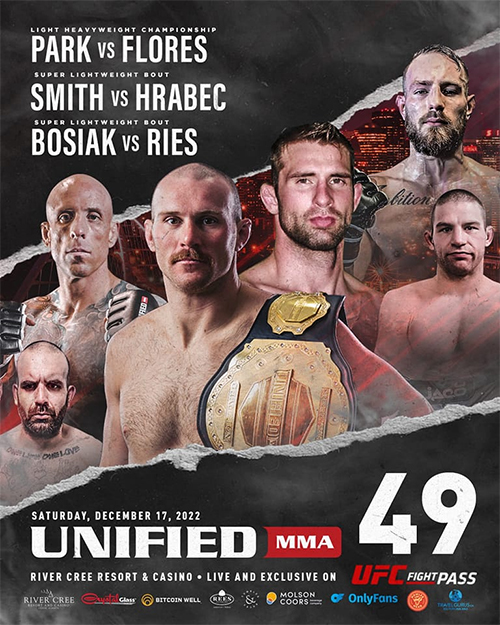 Unified MMA 49: Park vs. Flores will be a mixed martial arts event scheduled for December 17, 2022, at the River Cree resort and Casino in Edmonton, Alberta, Canada.
Fight Card

Main Card (UFC Fight Pass)
Graham Park vs. Ty Flores 205 lbs
Light Heavyweight Championship
Nick Hrabec vs. Behrang Yousefi 165 lbs
Aaron Bosiak vs. Cody Ries 165 lbs
Sterling Michetti vs. Anton Tokarchuk 205 lbs
Harley King vs. Devon Lozej 135 lbs
Jo Maisonneuve vs. Shannon Clark 135 lbs
Preliminary Card
Jake Craig vs. Terell Jonasson 265 lbs
Amateur Heavyweight Championship
Laine Foxton vs. Dillon Foerster 155 lbs
Mitch Wiles vs. Brandon Briglio 125 lbs
Cassie Warbeck vs. Ciara McCrae 115 lbs
Gabriel Brown vs. Kulbir Singh 125 lbs
Background
Denver's Ty Flores is coming to Canada this month for a business trip – and business is booming.

The heavy-handed American will challenge Graham Park for Park's Unified MMA Light-Heavyweight Championship in the Main Event of Unified 49 on Dec. 17 at River Cree Resort & Casino in Enoch, AB, LIVE on UFC Fight Pass.

Flores, a veteran of Dana White's Contender Series, is excited to experience The Great White North for the first time. He's looking forward to the trip, but his sights are firmly set on the task at hand, and the task at hand is taking out Park and bringing the Canadian title home with him to the United States.