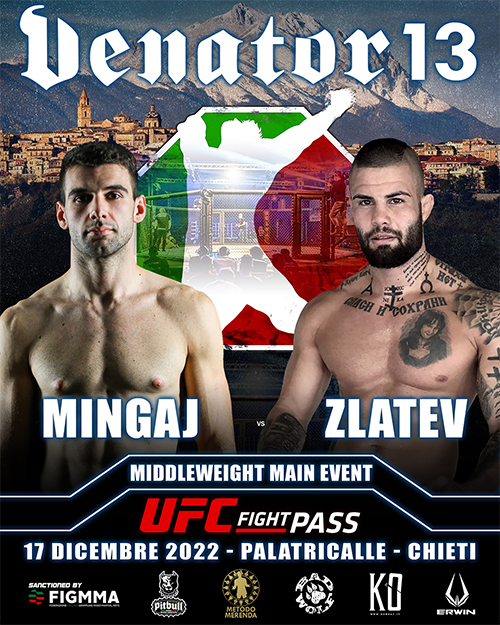 Venator FC 13: Mingaj vs. Zlatev is an upcoming mixed martial arts event scheduled for December 17, 2022 at PalaTricalle in Chieti, Italy.
Fight Card

Main Card (UFC Fight Pass)
Mario Mingaj vs. Nikola Zlatev 185 lbs
Edoardo Di Gregorio vs. Albert Serpeti 205 lbs
Fabio De Luca vs. Alessio Ibba 135 lbs
Andrei Oniscenco vs. Simone Valle 145 lbs
Giacomo Santoro vs. Akaki Khorava 125 lbs
Michael Reali vs. Mateusz Pawlik 170 lbs
Alessio Freguglia vs. Pier Briones 155 lbs
Background
Venator FC 13, the fourth card of the most important Italian mixed martial arts promotion, will be staged on Saturday 17 December at the PalaTricalle in Chieti.
Just 2 months after the previous October event in Montecatini, Frank Merenda's organization will present one last opportunity to fans of the national MMA movement to admire the fighters in action in 2022.

The main event of Venator FC 13 will see the Italian Mario Mingaj , an undefeated talent who has already shone with a victory over Gianni Massafra in the previous card, and the Bulgarian Nikola Zlatev in a middleweight match .

In the rest of the card, however, expert athletes such as Giacomo Santoro, Fabio De Luca and Alessio Ibba, and young emerging talents will fight.

Also not to be missed is the chance to meet Marvin Vettori , who will attend the event.