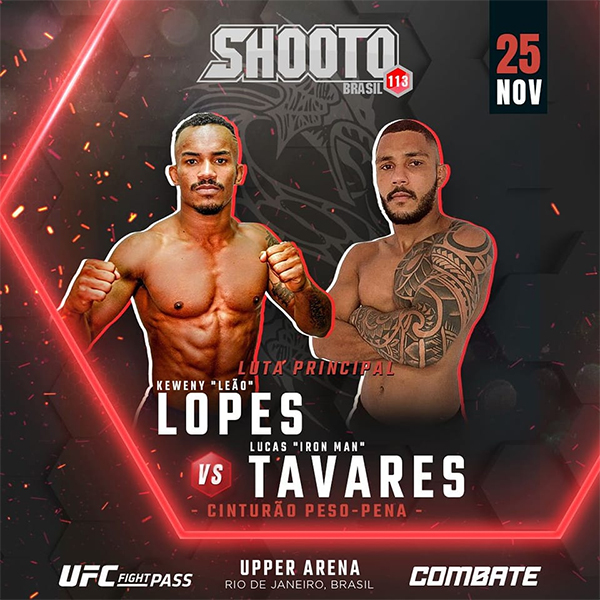 Shooto Brasil 113: Lopes vs. Tavares is an upcoming mixed martial arts event scheduled for November 25, 2022 at Upper Arena in Rio de Janeiro, Rio de Janeiro, Brazil.
Fight Card

Main Card (UFC Fight Pass)
Felipe Gheno vs. Davi Costa 125 lbs
Vacant Featherweight Championship
Keweny Lopes vs. Lucas Tavares 145 lbs
Renan Oliveira vs. Michel Lima 145 lbs
Renan Martins vs. Alessandro Macedo 185 lbs
Arcangelo Oliveira vs. Junior Luiz 155 lbs
Jefferson Nascimento vs. Wemerson Vitor 170 lbs
Romero dos Reis vs. Juscelino Pantoja
Wellington Lopes vs. Mateus Soares 145 lbs
Gabriel Fernandes vs. Gabriel Gilthon 145 lbs
Background
In the main event, Keweny "Leão" Lopes faces Lucas "Iron Man" Tavares for the featherweight belt.

Renan Oliveira and Michel "The Scream" Lima do the co-main event where the winner of the fight will be the next challenger to the featherweight belt!