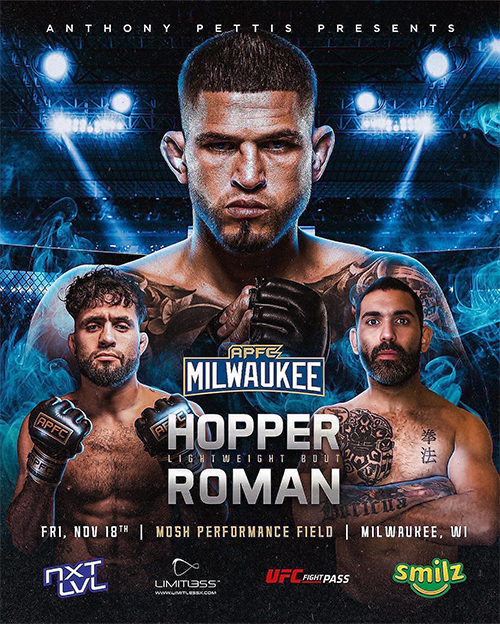 Anthony Pettis FC 3: Hopper vs. Roman (also known as Milwaukee Fight Night) is a mixed martial arts event promoted by Anthony Pettis FC and will take place on November 18, 2022 at the MOSH Performance Center in Franklin, Wisconsin, United States.
Fight Card

Main Card (UFC Fight Pass)
Johnny Hopper vs. Juan Roman 155 lbs
Cedric Savage vs. Jureall Simmons 185 lbs
Sanon Sadeck vs. Tyler Scott 170 lbs
Nick Aguirre vs. Greg Guzman 135 lbs
Tyler Veal vs. Gregory Sizemore 170 lbs
Ronny Hauser vs. Danny Flores 135 lbs
Unterio Gladney vs. Brandon Evans 155 lbs
Orlando Ortega vs. Sergio Plascencia 125 lbs
James Dunn vs. Badmatsyren Dorzhiev 135 lbs
Preliminary Card
Rudy Johnson III vs. Walter Saragosa 125 lbs
Josh Sutherlin vs. Jacob Juda 145 lbs
Timmy Noverini vs. Khatanbaatar Khuukhenkhuu 155 lbs
Charlie Nellinger vs. Jose Vasquez 125 lbs
Josue Sotero vs. Isaiah Flores 155 lbs
Jerod Winston vs. Damyen Gothard 265 lbs
Background
Milwaukee's own, former UFC Lightweight champion and mma legend Anthony Pettis brings UFC Fight Pass back to his hometown.

Showtime hosts his final APFC live mixed martial arts show of 2022. The event will feature pro and amateur bouts with some of the Midwest's top mma prospects.

The event will include fights featuring undefeated pro prospects Sergio Plascencia, & Nick Aguirre. Wisconsin locals Cedric Savage and Sadeck Sanon. And a main event featuring knockout artist Johnny Hopper.