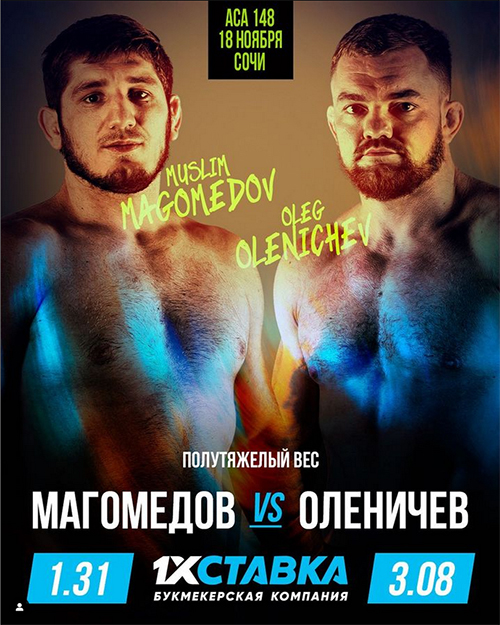 Absolute Championship Akhmat 148: Magomedov vs Olenichev will be a mixed martial arts event held by Absolute Championship Akhmat on November 18, 2022 at the Sports Palace "Big" Sochi Olympiyskiy in Sochi, Russia.
Fight Card

Main Card
Light Heavyweight 93 kg Russia Muslim Magomedov (c) vs. Russia Oleg Olenichev
Light Heavyweight Championship
Light Heavyweight 93 kg Brazil Leonardo Silva vs. Armenia Grigor Matevosyan
Lightweight 71 kg Russia Alexander Matmuratov vs. Russia Pavel Gordeev
Middleweight 84 kg Russia Mikhail Dolgov vs. Russia Abdul-Rakhman Dzhanaev
Lightweight 71 kg Russia Vener Valiev vs. Brazil Denis Silva
Preliminary Card
Welterweight 77 kg Russia Viskhan Magomadov vs. Brazil Renato Gomes
Featherweight 66 kg Russia Sergey Klyuev vs. Kyrgyzstan Nizambek Zhunus Uulu
Bantamweight 62 kg Georgia Vazha Tsiptauri vs. Russia Murad Kalamov
Heavyweight 120 kg Russia Yuriy Fedorov vs. South Africa Matunga Djikasa
Welterweight 77 kg Russia Bai-ali Shaipov vs. Kyrgyzstan Edil Esengulov
Background
In the main event of the evening at ACA 148, light heavyweight champion Muslim Magomedov will face No. 3 Oleg Olenichev.

Muslim Magomedov (11-0) is an undefeated fighter from Dagestan, who has 8 confident victories in the ASA league. Last July, Muslim won the vacant title against Evgeny Egemberdiev and successfully defended it against Grigor Matevosyan 8 months later.

Oleg Olenichev (17-6) leads a series of 6 victories in a row, Oleg won three of them in the ACA cage. After defeating one of the strongest light heavyweights in the league, Amirkhan Guliyev, Olenichev got the opportunity to fight for the title.