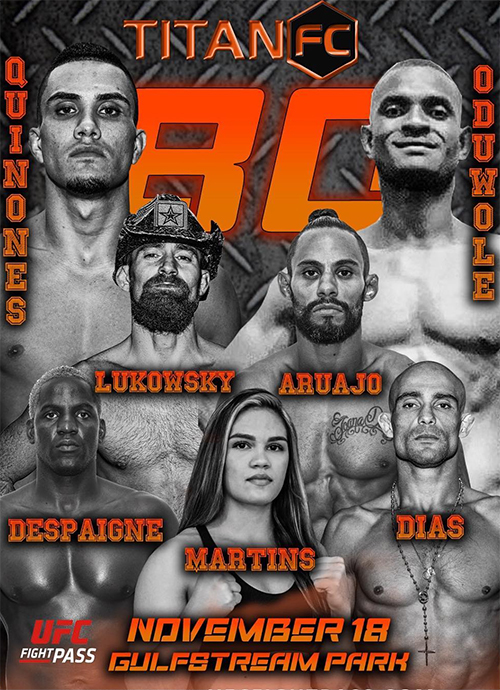 Titan FC 80: Quiñones vs. Oduwole is an upcoming mixed martial arts event scheduled for November 18, 2022 at the Gulfstream Park & Casino in Miami, Florida, United States.
Fight Card

Main Card (UFC Fight Pass)
Landon Quiñones vs. Yemi Oduwole 155 lbs
Lightweight Championship
Ira Lukowsky vs. Wendel Araujo 135 lbs
Evelyn Martins vs. Hilda Benitez 145 lbs
Dias vs. Belo 170 lbs
Background
Some fighters are all-in from the get-go. Landon Quinones admits he wasn't one of those. He dabbled in and out of martial arts, since his mother put him in karate at age 5. It was just an activity. Quinones also explored some trial boxing classes. It was fun, but nothing special and too expensive. A neighbor got him into judo, but he was inconsistent. Basketball and other sports were more his jam. A self-described "degenerate" teenager who liked smoking weed with his friends, Quinones found relatability in a UFC fighter named Nate Diaz. As he watched how "real" the Diaz Brothers were in the face of adversity, Quinones finally found the drive to commit to MMA fully. Training three days a week turned into four days a week, then five, then six. His first MMA competition came at 18. After a 3-3 amateur career, Quinones turned pro in 2017. After a 5-1-1 start, Quinones received a Dana White's Contender Series offer. Unfortunately, Quinones tested positive for COVID-19 and his bout was canceled. Bad turned to worse when he tore his ACL shortly thereafter. After much mental and physical recovery, Quinones returned in April and won the Titan FC lightweight title.

Quinones is a "best of both worlds" prospect. He's battle tested, but hasn't maxed out his potential. His fighting style is fun and he finishes fights. A shiny Titan FC belt is perfect for the mantle, but also for the resume when it comes time for major promotions to do some scouting. The UFC already locked in on Quinones in 2020. Why they have not circled back remains a mystery. Regardless, Quinones in the meantime has shown tremendous mental fortitude in the face of adversity as he came back better than ever after his injury. He trains alongside some of the best fighters in the world at Kill Cliff FC. If he successfully defends his title belt, expect Quinones to grace major promotion's cage soon.

Yemi Oduwole is the 2nd ranked of 23 active Kentucky Pro Welterweights with a Pro MMA Record of 9-3-0.