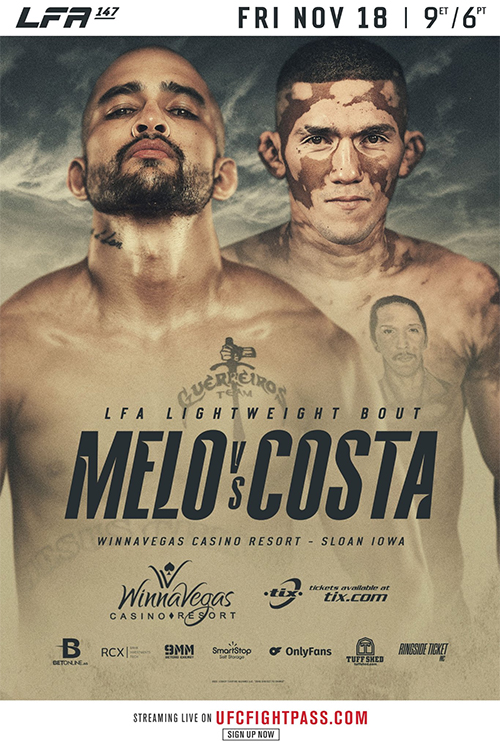 Legacy Fighting Alliance 147: Melo vs. Costa is a mixed martial arts event promoted by Legacy Fighting Alliance and will take place on November 18, 2022 at the WinnaVegas Casino Resort in Sloan, Iowa, United States.
Fight Card

Main Card (UFC Fight Pass)
Lightweight Junior Melo vs. Melquizael Costa
Bantamweight Justin Wetzell vs. Rafael do Nascimento
Bantamweight Askar Askar vs. Rickey Furar
Welterweight Haris Talundžić vs. Omoyele Gonzalez
Welterweight Ryan Leininger vs. Jeremiah Curtright
Women's Flyweight Helen Peralta vs. Aline Pereira
Heavyweight Ben Tynan vs. Henrique Silva
Preliminary Card
Lightweight Ben Halder vs. William Starks
Women's Strawweight Leslie Hernandez vs. Jasmine Pouncy
Women's Strawweight Jasmine Montoya vs. Amanda Macioce
Background
LFA 147 will feature an explosive lightweight showdown when the promotion returns to the Hawkeye State. This will be the second LFA event to take place in the state of Iowa. RFA also hosted one event in Iowa before the merger of RFA and Legacy FC that created LFA.

LFA 147: Melo vs. Costa takes place Friday, November 18th at the WinnaVegas Casino Resort in Sloan, Iowa, which is located in the Sioux City metropolitan area. The main event will feature a lightweight showdown between Brazilian standouts Junior "The Fortaleza Kid" Melo and Melquizael "Melk" Costa.

"We are excited to have the LFA return to Iowa next month," stated LFA CEO Soares. "Junior Melo and Melquizael Costa are two of the most exciting prospects to come out of Brazil this year. They have both headlined events for us in the past 6 months and they are both coming off big knockout wins on back-to-back nights in August. There will be a lot on the line when they meet in the main event of LFA 147!"

Melo (12-5) is a surging Brazilian prospect that is looking to cap a flawless 2022. In March, the BJJ black belt made his LFA debut on just 4 days' notice. LFA fan favorite Tommy Aaron had lost his opponent and Melo did not hesitate to take the fight and make his long-awaited American soil debut. The grappler shocked the home crowd by knocking out the dangerous striker in just 97-seconds. The knockout changed his career. First it went viral online, then it earned him a "Knockout of the Night" bonus, and ultimately positioned him to headline his first LFA event in August. "The Fortaleza Kid" again took advantage of his opportunity and knocked out another local favorite in Canadian standout Adam Assenza. Now he will look to make it three in a row at LFA 147.

Costa (18-5) is one of the more popular prospects to come out of Brazil in recent years and was also eager to step up to make his LFA debut on short notice. His opportunity came when Rodrigo Lídio withdrew from the main event of LFA 132 in May, after being signed to compete on Dana White's Contender Series. The man known as "Melk" jumped at his chance and made an immediate impression with the promotion and its fans. Costa has also been making an impact outside the cage as he (like former UFC star Scott Jorgensen) is an advocate and role model for people with vitiligo, which is a disorder that causes the skin to lose its color. Now the Brazilian star returns looking to take the same path as his teammate Joanderson "Tubarão" Brito, who went from the LFA to the UFC.

LFA 147 will also feature an explosive women's flyweight showdown between two of the division's most accomplished strikers.

Peralta (5-3) is a Bare-Knuckle Boxing champion that will be fighting in her home state of Iowa for the first time in her professional career. Earlier this year, she competed on the 30th season of the UFC's hit reality show The Ultimate Fighter, where she was coach Julianna Peña's first overall pick. Now the woman known as "Iansã" looks to continue to build her name and fierce fighting reputation in MMA. This will happen at LFA 147, which will be her first fight for the LFA since she competed for the promotion nearly six years ago at LFA 2. Peralta also holds a notable win over LFA alum and current UFC star Cheyanne Vlismas.

Pereira (0-0) will make her professional MMA debut for the LFA two years after her older brother Alex "Poatan" Pereira landed an incredible knockout in his LFA debut. Alex is widely considered the most dangerous striker on earth having been crowned GLORY Kickboxing's two-division champion. He also possesses a highlight reel for the ages, which includes a pair of kickboxing victories against UFC middleweight champion Israel Adesanya. Aline is also a GLORY Kickboxing star and now looks to follow in her brother's footsteps just six days after he fights Adesanya for the UFC middleweight title in the main event of UFC 281.