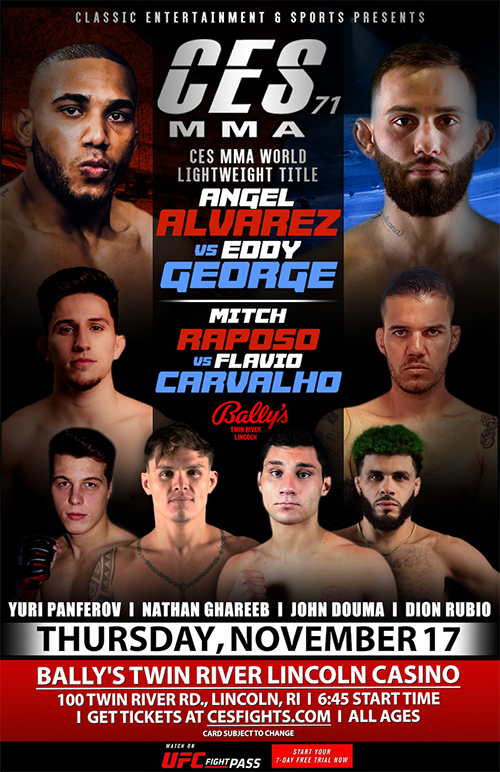 CES 71: Alvarez vs. George is a mixed martial arts event promoted by CES MMA and will take place on November 17, 2022 at the Twin River Casino in Lincoln, Rhode Island, United States.
Fight Card

Main Card (UFC Fight Pass)
Angel Alvarez vs. Eddy George 155 lbs
Lightweight Championship
Mitch Raposo vs. Flávio Carvalho 125 lbs
Flyweight Championship
Dion Rubio vs. Kaecy Raddon 155 lbs
Gary Balletto Jr. vs. Pat Casey 170 lbs
John Douma vs. Johnny Baldridge 135 lbs
Nathan Ghareeb vs. Antonio Castillo Jr. 145 lbs
Yuri Panferov vs. Brian Imes 205 lbs
Jon Ciampa vs. Jerell Nettles 170 lbs
Preliminary Card
Shane Dillehay vs. Kamil Meler 155 lbs
Background
The undefeated Eddy George (5-0) goes for gold Thursday vs. Angel Alvarez (5-1) at CES 71. In the co-main the Mitch Raposo (6-1) vs. Flavio Carvalho (7-4-1) matchup has been elevated to a 5 round Flyweight Championship bout.