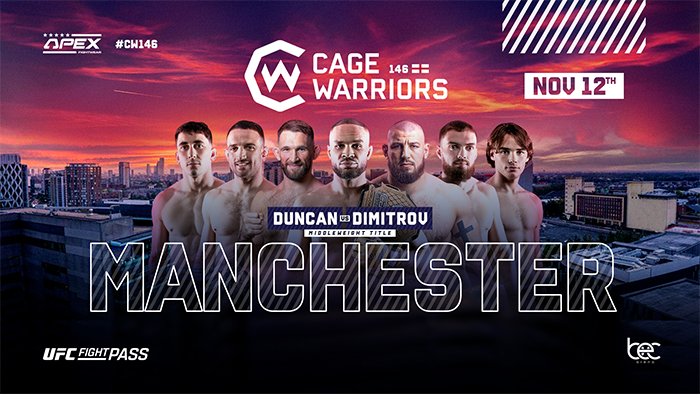 Cage Warriors 146: Duncan vs. Dimitrov (also known as Manchester) is a mixed martial arts event to take place on November 12, 2022 at the Bec Arena in Manchester, England, United Kingdom.
Fight Card

Main Card (UFC Fight Pass)
Christian Leroy Duncan vs. Marian Dimitrov 185 lbs
Middleweight Championship
Jim Wallhead vs. Mateusz Figlak 170 lbs
Andrew Clamp vs. Chuck Campbell 125 lbs
Aaron Aby vs. Stipe Brčić 125 lbs
Sam Kelly vs. Jack Eglin 135 lbs
Antonio Sheldon vs. Jordy Bakkes 145 lbs
Aaron Johnson vs. Łukasz Kopera 155 lbs
Manny Akpan vs. Samuel Bark 145 lbs
Luke Riley vs. Karol Kutyła 145 lbs
Reece McEwan vs. Teodoro Scolieri 145 lbs
James Hendin vs. Araik Margarian 145 lbs
Milad Ahady vs. Tom Mearns 145 lbs
Orlando Wilson Prins vs. Liam Molloy 145 lbs
Martin Causse vs. Adam Cullen 170 lbs
Faisal Malik vs. Liam Gittins 145 lbs
Background
Expect the best from the North West and Europe as CW returns to Manchester.

For his inaugural defence, Christian Leroy Duncan (6-0) will return to the scene of his middleweight title victory earlier this year.

The undefeated phenom from Gloucestershire is to put his belt on the line against Marian Dimitrov (10-2) at Cage Warriors 146.

The event is scheduled to take place on Saturday November 12th at the BEC Arena in Manchester, England.

Duncan has bulldozed his way to the top of the organisation's middleweight division with a string of eye-catching performances since making his professional debut in September 2020.

The talented 27-year-old continued his ascent in Manchester in April by forcing a spectacular TKO stoppage to dethrone Djati Melan.

Dimitrov, his 30-year-old opponent from Bulgaria, will aim to halt Duncan's progress by extending his win streak to an 11th fight.

Also, one of Europe's leading light heavyweight competitors, Andrew 'The Vice' Clamp, is set to make his professional Cage Warriors debut this Saturday in Manchester at CW 146. A seasoned veteran of the UK circuit, Clamp has amassed an impressive 11-1 (1NC) record and is a proven finisher, with seven victories coming by way of TKO and three via submission.

Welcoming Clamp back to the CW cage is San Jose, California's Chuck Campbell. American Kickboxing Academy's Campbell (4-1, 1NC) will be looking to keep his momentum in the famous yellow gloves going, following an impressive points victory over the previously unbeaten Elijah Harris at CW 133 in March.

The American will be making his first appearance on a European CW event, and with the upcoming Team Europe vs Team USA event on New Year's Eve, will no doubt be looking to earn some early bragging rights for the American team.

With both light heavyweights standing a shade under six-and-a-half feet tall, the Manchester crowd will be treated to a battle of the giants on Saturday night.

The bout joins an already stacked lineup, capped off by a pair of CW title bouts as Mateusz Figlak meets 'Judo' Jim Wallhead for interim welterweight gold, while Christian Leroy Duncan defends his middleweight championship against Marian Dimitrov.