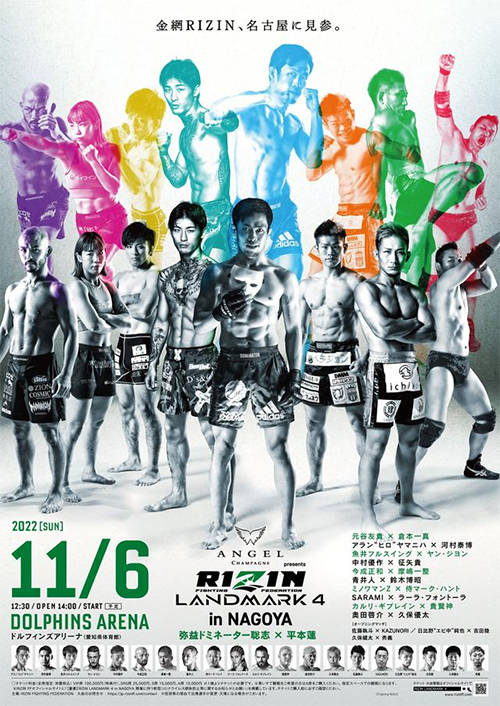 Rizin Landmark Vol.4: Yamasu vs. Hiramoto will be a Combat sport event held by Rizin Fighting Federation on November 6, 2022, at the Dolphins Arena in Nagoya, Japan.
Fight Card

Main Card
Featherweight 66 kg Japan Satoshi Yamasu vs. Japan Ren Hiramoto
Bantamweight 61 kg Japan Yuki Motoya vs. Japan Kazuma Kuramoto
Featherweight 66 kg Japan Kazumasa Majima vs. Japan Masakazu Imanari
Heavyweight 120 kg Brazil Cally Gibrainn de Oliveira vs. Japan Takakenshin
Super Atomweight 49 kg Japan Satomi Takano vs. Brazil Laura Fontoura
Heavyweight 120 kg Japan Kiyoshi Kuwabara vs. Japan Ikuhisa Minowa
Featherweight 66 kg Japan Jin Aoi vs. Japan Hiroaki Suzuki
Flyweight 57 kg Japan Yusaku Nakamura vs. Japan Takaki Soya
Bantamweight 61 kg Japan Mamoru Uoi vs. South Korea Ji Yong Yang
Bantamweight 61 kg Brazil Alan Yoshihiro Yamaniha vs. Japan Yasuhiro Kawamura
Featherweight 66 kg Japan Keisuke Okuda vs. Japan Yuta Kubo
Bantamweight 61 kg Japan Riku Yoshida vs. Japan Junya Hibino
Flyweight 57 kg Japan Kenta Kubo vs. Japan Hideyoshi Okamoto
Strawweight 53 kg Japan Shuto Sato vs. Japan KAZUNORI
Kickboxing
Background
A bantamweight bout between Satoshi Yamasu and Ren Hiramoto is booked as the main event.

In the co main event Yuki Motoya vs. Kazuma Kuramoto, the veteran Motoya is very well-rounded and can deliver an extremely fast pace fight while Kuramoto utilizes his grappling skills to demobilize his opponents and unleash pure violence. The key to this fight is will Kuramoto's style work against the crafty and agile Motoya.

Cally Gibrainn de Oliveira is a pure striker with devastating hands and forward pressure. This is Takakenshin's 2nd fight but the footwork shown in his debut showed his potential. Callyu wants to stay away from grappling distance. Takakenshin want's to close distance and utilize size difference.

Satomi Takano aka. SARAMI is the more well-rounded fighter while Laura Fontoura has the significant Jiu Jitsu. The key to this fight will be Laura's striking. If Laura can hold her own against SARAMI on her feet, it will be an extremely tough fight for SARAMI.

Among the announced bouts is the return of a longtime veteran, Minowaman, who has now declared himself with a new name, 'Minowaman Z'.