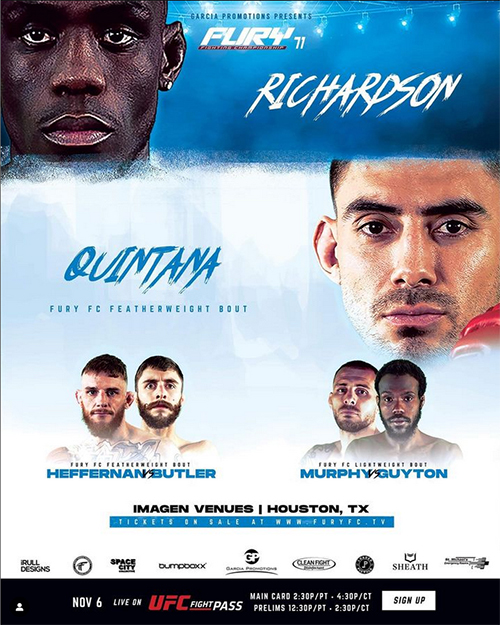 Fury FC 71: Richardson vs. Quintana is a mixed martial arts event promoted by Fury Fighting Championship and will take place on November 6, 2022 at the Escapade 2001 in Houston, Texas, United States.
Fight Card

Main Card (UFC Fight Pass)
Nate Richardson vs. Andrés Quintana 145 lbs
Jake Heffernan vs. Jesse Butler 145 lbs
Michael Murphy vs. Armus Guyton 155 lbs
Devin Smyth vs. Aalon Cruz 155 lbs
Joshua Van vs. Tyler Bialecki 125 lbs
Cameron Smotherman vs. Casey Jones 135 lbs
Derrick Ageday vs. Sam Kilmer 170 lbs
Rainn Guerrero vs. Christina Marks 135 lbs
Colin Wright vs. Angel Luis Cruz 145 lbs
Kenneth Glenn vs. Santiago Guzman 155 lbs
Cameron Graves vs. Jason Mullen 145 lbs
John Yannis vs. Moises Oropeza 135 lbs
Gabriel Macário vs. Frank Meno 155 lbs
Zachary Reese vs. Shahriar Zolfaghari 185 lbs
Jordan Plutin vs. Charles Jones 145 lbs
Luke Crawford vs. Soloman Amadeo 155 lbs
Preliminary Card
Hope Holmes vs. Karyme Sepulveda 105 lbs
Gerardo Lazaro vs. Michael Ybarra 155 lbs
Jonathan King vs. Oscar Gomez 155 lbs
Brian James vs. Rodrigo Barrera 145 lbs
D'Andre Glasper vs. Cody Ortiz 125 lbs
Gage Harper vs. Trent Wells 125 lbs
Conner Caswell vs. Isaiah Sanmiguel 135 lbs
Ryan Cooke vs. Sean Magnus 170 lbs
Jared Gallegos vs. Cade Foradory 145 lbs
Jonathan King vs. Oscar Gomez 155 lbs
Background
Fury Fighting Championship has announced a Featherweight main event for Fury FC 71 featuring two dynamic strikers.

Fury FC 71 is Sunday November 6th at the Imagen Venues in Houston Texas. The main event will be set five rounds as former Fury FC champion Nate "The Natural" Richardson faces New Mexico's top ranked featherweight Andres "the Bullet" Quintana. Both fighters look to rebound from decision losses to current Fury FC Featherweight champion Huseyn Aliev.

Richardson (9-4) was a very successful Kickboxer, even fighting for Glory before fully dedicating himself to MMA. At LFA 77 Richardson showed what being fully focusing meant as he dissected and stopped Matt Jones with knees & punches for a third round TKO. A decision win over Contender Series vet Diego Lopes at Fury FC 52 put the Fury title around waist of the Minnesota fighter.

Quintana (19-4) a professional since 2011 has had eight & ten fight win streaks during his career. A long time protegee of Chris Luttrell, Andres has had a stretch of eight straight wins by knockout. In 2014 the Roswell native won the first ever Triple A MMA title. In 2018 "The Bullet" defeated three-men in one night to win the Copa Combate Tournament. A lifelong fan of the sweet science Quintana made his pro debut in 2020 fighting Angel Villanueva to a draw. At Fury FC 53 in Colorado Quintana delivered a one-sided beating to Edwin Chavez in his promotional debut.