Site Admin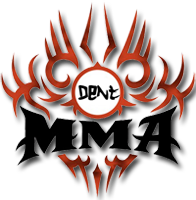 Joined: Tue Apr 07, 2009 12:53 pm
Posts: 12317
Location: In front of you

Contender Series 2022 - Week 9 - Aliu vs. Ferreira
---
Contender Series 2023 - Week 1 - Fernando vs. Almeida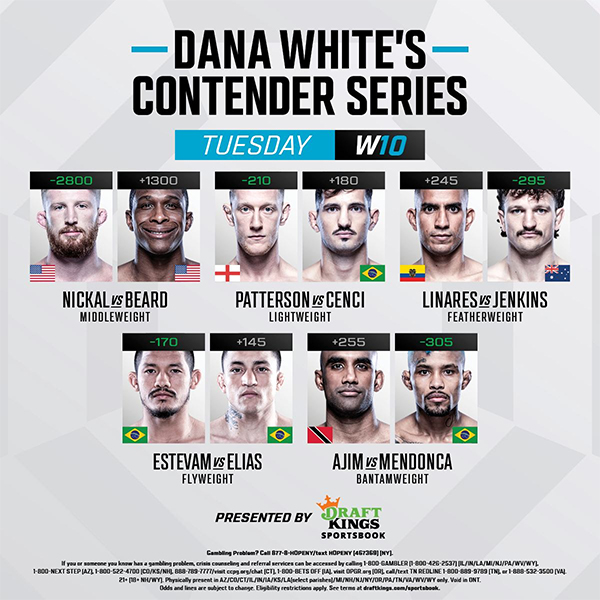 Dana White's Contender Series 2022: Season 6 Week 10 - Nickal vs. Beard, is a mixed martial arts event to take place September 27, 2022 at the UFC Apex in Las Vegas, Nevada, United States.
Fight Card

Main Card (UFC Fight Pass)
Middleweight Bo Nickal vs. Donovan Beard
Lightweight Sam Patterson vs. Vinicius Cenci
Featherweight Freddy Emiliano Linares vs. Jack Jenkins
Flyweight João Elias vs. Rafael Ramos Estevam
Bantamweight Ashiek Ajim vs. Mateus Mendonça
Background
The Contender series continues to bring on jawdropping performances from the creme de la creme of unsigned fighters.

Just like last year, we arrive at the final event for this season of Dana White's Contender Series with this year having already matched the record number of contracts awarded in a single campaign with one slate of fights left to hit the cage.

Over the previous nine weeks, 39 athletes have been added to the UFC roster, including the youngest fighter ever to be signed to a UFC contract, 17-year-old Raul Rojas Jr., who earned a victory and a call to the Octagon last week.

There have been six weeks where all five victors visited with Laura Sanko after the standout analyst and Contender Series fixture chatted with UFC President Dana White, and one week — Week 2 — where six fighters scored deals, as Shannon Ross was awarded a contract following his entertaining loss to Vinicius Salvador when it was discovered he competed with severe appendicitis.

The staggering number of contracts that have been awarded thus far this season is only more impressive given than only one was awarded in the opening week, though it seems like everyone really did their best to "Be Joe Pyfer" in the subsequent weeks.

And so now we've reached the final event of the season — a chance to set a new benchmark for the number of contracts awarded, to see five additional pairs of fighters make the walk on a Tuesday night, and to get one more look at middleweight prospect Bo Nickal.


Here's a closer look at this week's matchups.


Bo Nickal vs Donovan Beard

After looking every bit as good as advertised in his first appearance of the season, Bo Nickal is back with designs on making another statement, while Donovan Beard aims to show the former Penn State standout is still not ready for prime time.

Nickal is one of the best prospects to enter the sport in some time. A three-time National Champion, the 2019 Dan Hodge Trophy winner and Big Ten Athlete of the Year blew through Zachary Borrego to close out Week 3, submitting the Texan in 62 seconds, and will look to do the same to Beard before turning his attention to those in the UFC middleweight division.

Beard is 32, but began his pro career less than two years ago, amassing a 7-1 record while remaining extremely active. He earned a first-round stoppage win in May to get back into the win column after suffering the lone loss of his career at the tail end of 2021, and followed that up by claiming the vacant CFFC middleweight title with a fourth-round submission win over Miles Lee in July.

All eyes are understandably on Nickal here. Will the confident prospect continue to impress or will Beard close out the season with the biggest upset in DWCS history?


Sam Patterson vs Vinicius Cenci

Sam Patterson and Vinicius Cenci face off in hopes of becoming the eighth lightweight to earn an opportunity to compete in the Octagon this season.

If you follow UFC broadcaster John Gooden on Instagram (and you should), you've seen him speak highly of his training partner Patterson, who carries a nine-fight unbeaten streak into this one. The 26-year-old has spent the last couple years shining under the Brave CF shingle, earning five straight victories, including back-to-back stoppages and finishes in four of those contests.


A member of the squad at Kings MMA, the 26-year-old Cenci returns to action looking to build on his 6-1 record. He trains with elite talents and has won six straight, all by stoppage, but it's difficult to know what to expect from the Brazilian as he ends his sabbatical on Tuesday night.

Only one lightweight fight this season has gone the distance, and given their shared lack of interest in letting the judges determine their fate, chances are this one won't go the full 15 minutes either.


Freddy Emiliano Linares vs Jack Jenkins

Featherweight hopefuls with a combined 17 wins in 20 appearances clash in the middle of Tuesday's finale, as Freddy Emiliano Linares squares off with Jack Jenkins.

Ecuador's Linares carries an 8-1 record into his clash with Jenkins, having earned victories in each of his last four fights. He's only gone the distance once in his career and hasn't seen the third round otherwise, which should tell you a little about the aggressive approach you can expect to see when he steps into the cage this week in Las Vegas.

The reigning Eternal MMA featherweight champion, Jenkins arrives in the States riding a six-fight winning streak that includes his title victory and a pair of successful defenses. Contrary to Linares, the Australian has ventured into deep waters already, and it will be interesting to see how his previously navigating championship rounds factors into their matchup on Tuesday.

Will Linares' "all gas, no brakes" style win him a contract or will Jenkins' proven gas tank and greater experience rule the day?


Joao Elias vs Rafael Ramos Estevam

Joao Elias and Rafael Ramos Estevam meet in this all-Brazilian flyweight battle on Tuesday night.

A member of the Gile Ribeiro Team, Elias arrives in Las Vegas on a three-fight winning streak and sporting an impressive 17-3-1 record overall. He hasn't seen the scorecards since the very early days of his career, and has already earned a pair of first-round stoppage wins this year, meaning a UFC contract would be a terrific way to close out his 2022 campaign.

Estevam is a perfect 10-0 in his career, but hasn't fought since last July, when he collected a second-round stoppage win over Filipe Esteves at LFA 112. The Nova Uniao product has made a couple appearances outside of the 125-pound flyweight division and will have a four-inch height advantage in this one. Can he put it to use in order to help pick up a victory?

Outside of the opening fight of the season, the rest of the flyweight slate this year has been wildly entertaining and there is no reason to expect any different when these two talented fighters from established teams step into the cage on Tuesday night at the UFC APEX.


Ashiek Ajim vs Mateus Mendonca

Ashiek Ajim of Trinidad and Tobago and Mateus Mendonca of Brazil face off during Dana White's Contender series season six, week ten weigh-in at Palace Station

Bantamweights get the distinction of kicking off the Season 6 finale on Tuesday, as Ashiek Ajim and Mateus Mendonca go head-to-head in hopes of punching their ticket to the UFC.

Fighting out of Long Island MMA, Ajim arrives in Las Vegas with a 6-1 record and a three-fight winning streak, with each of those victories coming in less than a minute while competing under the CES banner. His lone career setback came against Kris Moutinho and he was slated to face Jay Perrin earlier this year before "The Joker" was called up the UFC roster; now Ajim gets his chance to potentially join him there.

Like Estevam, Mendonca is a difficult prospect to get a read on, as he's 9-0 as a professional and coming off a win over UFC veteran Pedro Nobre in his last appearance, but that fight took place nearly two years ago. What's crazier to consider is that "Bocão" is still only 23 years old, which means he out-worked the then 34-year-old, 29-fight veteran at the tender age of 21.

Can Ajim keep his run of rapid success rolling or will Mendonca pick up where he left off two years back and maintain his unbeaten record?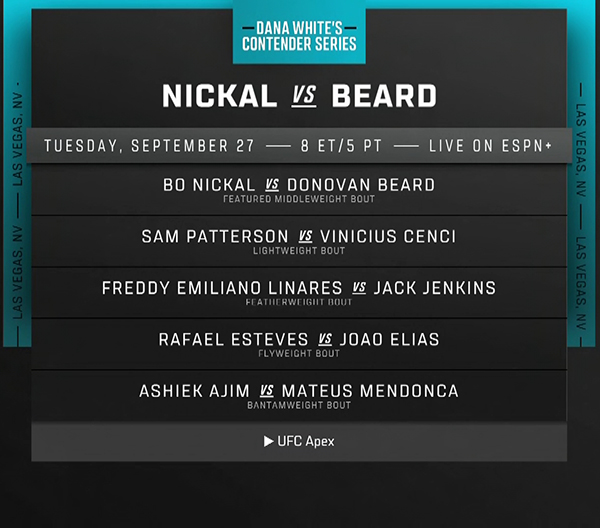 _________________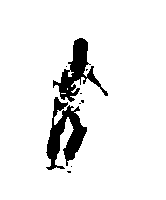 So you wanna be a [bleeping] member? => Get access to the community <=

Looking for a seedbox? RuTorrent, qbitTorrent, Deluge and Transmission included in all packages! Unlimited torrents, unlimited transfers!
Perfect for both beginners and professionals. Watch the files directly in your browser without downloading or download to your device, up to you!


Really Fast 1 Gbit seedboxes - Professional support 24/7/365 - Click to learn more
To get a recurring 10% discount on all seedbox packages use the PROMO CODE: mmatorrents


Last bumped by Dent on Mon Sep 26, 2022 6:27 pm.