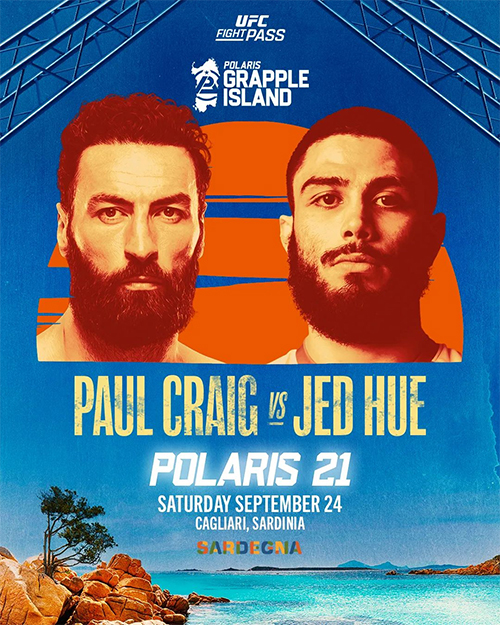 Polaris 21: Craig vs. Hue (also known as Grapple Island) is a grappling event to take place on September 24, 2022 at the Auditorium del Conservatorio di Musica in Cagliari, Sardinia, Italy.
Fight Card

Main Card (UFC Fight Pass)
Paul Craig vs. Jed Hue
Josh Hinger vs. Owen Livesey
Ross Nicholls vs. Marcelo Fausto
Alessio Sacchetti vs. Tom Halpin 145 lbs
Luca Anacoreta vs. Espen Mathiesen
Tom Barlow vs. Robson Moura
Michelle Nicolini vs. Ashley Bendle 132 lbs
PPJJI Vacant Bantamweight Championship
Preliminary Card
Alessio Salis vs. Loris Zanolini 149 lbs
Stefano Sanna vs. Matteo Bittichesu
Matteo Vermiglio vs. Khadim Dia
Francesco Minnini vs. Nick Gullo
Christiano Troisi vs. Manuel Pilato 185 lbs
Shane Curtis vs. Alberto Buriasco 185 lbs
Davide Martinez vs. Fabio Pittito
Background
Polaris is back and ready to bring elite BJJ to Sardinia. On Saturday 24th September, Polaris are putting on their first ever International event with a card that will be stacked with Grapplers from all around the world.