Site Admin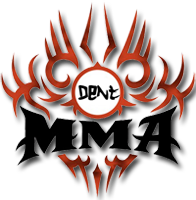 Joined: Tue Apr 07, 2009 12:53 pm
Posts: 11328
Location: In front of you

Contender Series 2022 - Week 8 - Begosso vs. Basharat
---
Contender Series 2022 - Week 10 - Nickal vs. Beard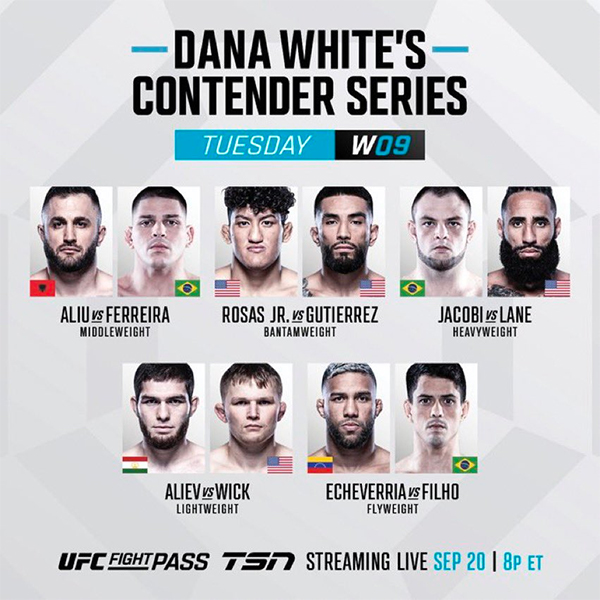 Dana White's Contender Series 2022: Season 6 Week 9 - Aliu vs. Ferreira, is a mixed martial arts event to take place September 20, 2022 at the UFC Apex in Las Vegas, Nevada, United States.
Fight Card

Main Card (UFC Fight Pass)
Middleweight Leon Aliu vs. Brunno Ferreira
Bantamweight Raul Rosas Jr. vs. Mando Gutierrez
Heavyweight Austen Lane vs. Richard Jacobi
Lightweight Nurullo Aliev vs. Josh Wick
Flyweight Roybert Echeverria vs. Jafel Filho
Background
The Contender series continues to bring on jawdropping performances from the creme de la creme of unsigned fighters.

Leon Aliu vs. Bruno Ferreira

Leon Aliu and Bruno Ferreira clash in this meeting of talented middleweights looking to take the next step forward in their respective careers.

Aliu is 33-year-old fighter, but only made his pro debut six years ago, so he's closer to being in his fighting prime than beyond it. He earned early career victories over DWCS alum Leonardo Damiani and UFC vet Amilcar Alves, and rolls into this pairing off a quality first-round stoppage win over James Webb at Cage Warriors 138 in May.

The 29-year-old Brazilian Ferreira has rampaged to eight straight victories since beginning his professional career in April 2019. He's yet to go the distance and has only exited the first round twice, which makes it very easy for me to say that "The Hulk" has smashed his competition thus far.

Aliu has faced the superior competition throughout his career in comparison to Ferreira, but the unbeaten Brazilian has been an absolute wrecking ball, which makes this a highly intriguing pairing to watch on Tuesday night.


Raul Rosas Jr. vs. Mando Gutierrez

In bantamweight action, Raul Rosas Jr. squares off with Mando Gutierrez.

Rosas Jr. signing up to compete here made waves in the MMA community as "El Nino Problema" is only 17 years old. After quickly winning a pair of amateur bouts, he turned pro last November, and has quickly collected five consecutive stoppage wins to land this opportunity.

The 25-year-old Gutierrez, who trains with the Murcielago MMA crew in East Lansing, Michigan, is 7-1 overall and arrives in Las Vegas on a three-fight winning streak. He's another Contender Series hopeful that ran afoul of Mo Miller earlier in their careers, and like Rosas Jr., he's not particularly fond of wasting time inside the Octagon, with all but his last victory coming in the first round.

Will the teenage talent force his way onto the UFC roster or will Gutierrez show him that he still has plenty to learn before making the jump to the big leagues?


Richard Jacobi vs. Austen Lane

Heavyweight hopefuls meet on Tuesday at the UFC APEX as Brazil's Richard Jacobi squares off with returning alum Austen Lane.

Undefeated in seven professional appearances since turning pro last August, Jacobi, who trains with the Chute Boxe Monstro team alongside John Allan and Jennifer Maia, earned victories in each of his first six appearances before fighting Hyago Silva to a majority decision last time out at LFA 132 in April.

A former NFL defensive end and the current Fury FC heavyweight champ, Lane faced off with fellow NFL ex-pat Greg Hardy all the way back on the opening night of Season 2, losing in 57 seconds. He's remained steadfast in his pursuit of success in the cage, going 7-2 in nine fights since that first Contender Series appearance, and returns to Las Vegas on a five-fight winning streak that includes a fourth-round stoppage win over UFC vet Juan Adams to win his title.

This is the kind of fight that will tell us a great deal about each man, as Lane represents a considerable step up in competition for Jacobi, while the Brazilian is the kind of curious test the 34-year-old American needs to pass to potentially land a spot on the UFC roster.


Nurullo Aliev vs. Josh Wick

Undefeated hopeful Nurullo Aliev faces regional circuit veteran Josh Wick in a lightweight bout.

Just 21 years old, Aliev has already been a pro for more than four years, amassing a 6-0 record fighting exclusively in Russia. He's spent time training at Tiger Muay Thai and has been preparing for this contest at Kill Cliff FC in South Florida, which means he should come into Tuesday's bout in top form, ready for whatever Wick throws his way.

A pro since 2013, the 27-year-old Wick enters this bout with a 12-5 record that includes 10 finishes and a pair of wins over UFC vets Vince Morales and Cain Carrizosa. He could easily be Aliev's toughest test to date, which means he's got the chance to pull the upset and grab a contract.


Roybert Echeverria vs. Jafel Filho

A clash between quality flyweight prospects opens the penultimate week of fights on Season 6, as Roy Echeverria takes on Jafel Filho.

Unbeaten through his first seven fights, Venezuela's Echeverria trains out of Miami and has been a fixture under the Titan FC banner since turning pro in the fall of 2020. He's coming off a split decision win in his final appearance of last year, and is facing a significant step up in competition this week in Las Vegas.

Filho arrives at the UFC APEX with a 13-2 record, including a 2019 second-round stoppage win over Vinicius Salvador that has aged nicely following his win in the same building earlier in the season. The 29-year-old "Pastor" has won four straight, including first-round submission win last December that ended a more than two-year layoff.
Sep 20 - Updated fight card & background



_________________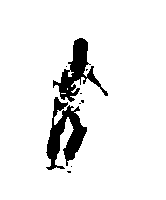 Real fast 1 gbit seedboxes - Professional support 24/7/365
Can off course be used on any tracker to gain ratio - Its pure freedom in a box!
Torrentflux or Dedicated Servers - 100% anonymous and encrypted - Welcome to try us out - 30 days money back garantuee!