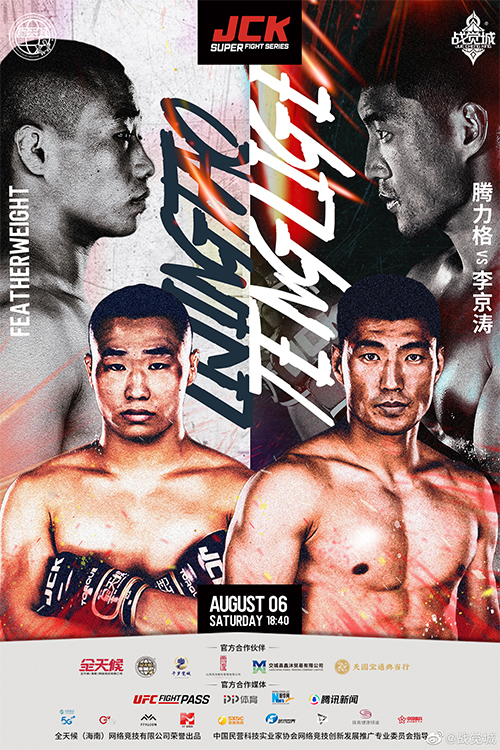 JCK MMA 2022 Week 15: Jingtao vs. Lige is an upcoming mixed martial arts event of the JCK 2022 Regular Season scheduled for August 6, 2022 at the JCK Arena in Haikou, Hainan, China.
Fight Card

Main Card (UFC Fight Pass)
Jingtao Li vs. Lige Teng 145 lbs
Wurigenbayar vs. Chengcheng Zhang 170 lbs
Huiyong Yang vs. Kadeerhan Maheshati 170 lbs
Dabuxilatu vs. Danzhenghua Qingduojie 155 lbs
Xuan Wang vs. Tilihabuli Walibieke 155 lbs
Lang Li vs. Pengxu Zhu 145 lbs
Hu Wang vs. Zhenyang Zhang 145 lbs
Tuerdiaji Sadier vs. Zhengyong Lu 125 lbs
Background
Week 15 of 32.
The headline main event this time is a featherweight matchup, where Tenlige faces Li Jingtao.
Other line-ups include: Urigenbayar, Zhang Chengcheng, Wang Hu, Zhang Zhenyang, Li Lang, Zhu Pengxu, Wang Xuan, Tilihabuli Valibek, etc.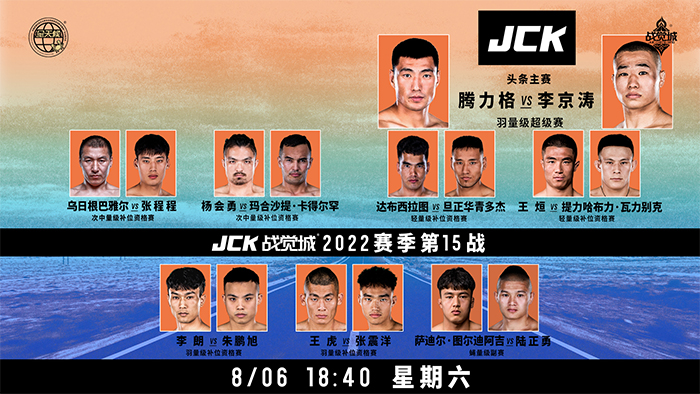 Aug 5 - Updated poster & background