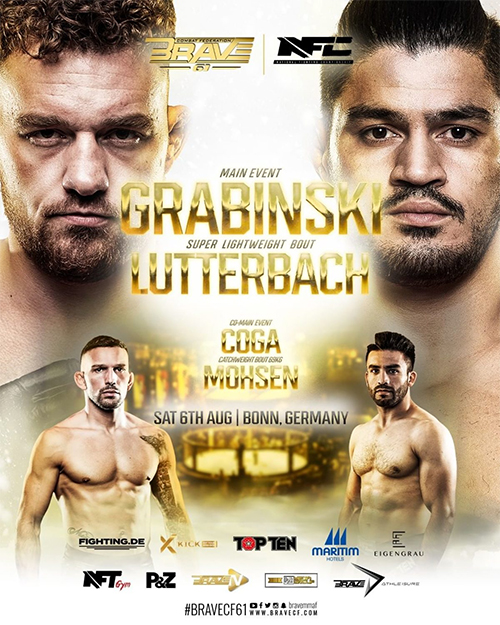 BRAVE CF 61: Grabinski vs. Lutterbach 2 will be a mixed martial arts event held by Brave Combat Federation in partnership with National Fighting Championship on August 6, 2022 at the Maritim Hotel in Bonn, Germany..
Fight Card

Main Card
Super Lightweight 75 kg Germany Marcel Grabinski vs. Germany Joilton Lutterbach
Catchweight 69 kg Afghanistan Zafar Mohsen vs. Germany Max Coga
Welterweight 77 kg Brazil Kleverson Cruz da Silva vs. Germany Islam Dulatov
Lightweight 70 kg Switzerland Husein Kadimagomaev vs. Tajikistan Agshin Babaev
Bantamweight 61 kg Gamzat Magomedov vs. Borislav Nikolić
Featherweight 66 kg Tajikistan Alisher Abdullaev vs. Germany Jarno Errens
Super Lightweight 75 kg Lebanon Ahmed Labban vs. Belgium Issa Isakov
Preliminary Card
Middleweight 84 kg South Africa Chad Hanekom vs. Italy Enrico Cortese
Welterweight 77 kg France Axel Sola vs. Germany Wladimir Holodenko
Featherweight 66 kg Germany Mohammed Trabelsi vs. France Brice Picaud
Heavyweight 120 kg Bulgaria Lazar Todev vs. Germany Patrick Vespazian
Background
In association with leading local promotion NFC, the fastest-growing organization in the world will land for the first time on German soil on August 6th, for BRAVE CF 61.

Belarusian Vadim Kutsyi has been forced to step down from his Super Lightweight bout against Marcel Grabinski due to illness and has been replaced by German-Brazilian star Joilton Lutterbach.

Both organizations can now confirm the full fight card, which is led by a Super Lightweight (165lbs) bout of epic proportions. German hero Marcel Grabinski is closing in on a title shot in his division, but will need to go past Joilton Lutterbach, as the German-Brazilian standout makes his promotional debut on short notice.

Both men have fought each other before, with Lutterbach taking home a decision win, so for Grabinski, BRAVE CF 61 provides a chance for revenge, as well as a shot at the number one Super Lightweight in the world, BRAVE CF champion Eldar Eldarov.

In total, BRAVE CF 61 will have 14 nations represented in a 11-strong fight card that will shake the core of MMA fans in Germany, Europe and beyond. Athletes from Germany, Brazil, Switzerland, Azerbaijan, Russia, Serbia, Netherlands, Tajikistan, Belgium, Lebanon, South Africa, Italy, France, and Bulgaria will be in action on an unforgettable night for European mixed martial arts.

Germany will become the 28th nation to host a BRAVE CF event and the 11th European country to welcome the organization.