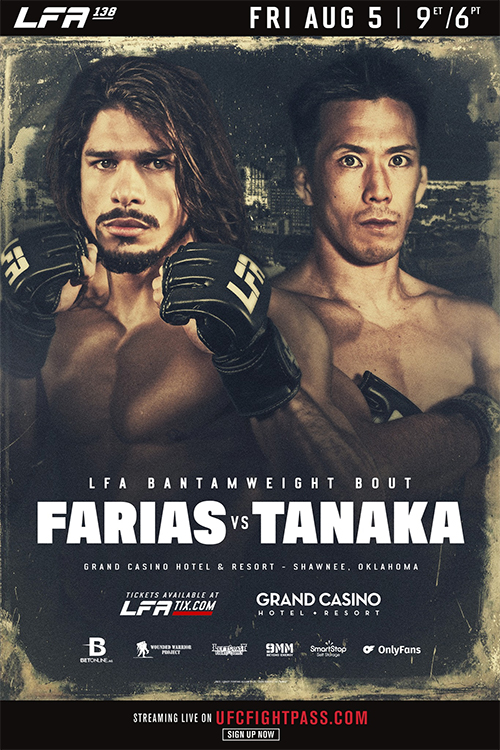 Legacy Fighting Alliance 138: Farias vs. Tanaka is a mixed martial arts event promoted by Legacy Fighting Alliance and will take place on August 5, 2022 at the Grand Hotel Casino & Resort in Shawnee, Oklahoma, United States.
Fight Card

Main Card (UFC Fight Pass)
Bantamweight Ary Farias vs. Michinori Tanaka
Bantamweight Askar Askar vs. Diego Silva
Featherweight Elijah Johns vs. Masuto Kawana
Featherweight AJ Cunningham vs. Shea Conley
Featherweight Jota Ninomiya vs. Nick Talavera
Catchweight (150 lb) Motaz Askar vs. Chris Mecate
Preliminary Card
Featherweight Jared Brown vs. Ryan Hoover
Featherweight Ashton Kirby vs. Kallum Parker
Welterweight Mindaugas Vaitkūnas vs. Kevin Pease
Amateur Card
Catchweight (195 lb) David Wright vs. Gabe Conner
Lightweight Abraham Benjamin vs. Abbas Mounshed
Background
LFA 138 will feature a high-stakes bantamweight showdown between two of the division's top international stars when the promotion returns to the Sooner State. LFA 138 will be the thirteenth LFA event to take place in the state.

LFA 138: Farias vs. Tanaka takes place Friday, August 5th at the Grand Event Center inside the Grand Casino Hotel & Resort in Shawnee, Oklahoma, which is an exurb of Oklahoma City. The main event will feature a bantamweight showdown between seven-time BJJ world champion Ary Farias and five-time UFC veteran Michinori Tanaka.

"We are excited to bring the LFA back to the Grand Casino Hotel & Resort in Oklahoma," stated LFA president Ed Soares. "Ary Farias is a seven-time BJJ world champion from Brazil and Michinori Tanaka is a five-time UFC veteran from Japan. They are two of our biggest international stars and will meet in the main event of LFA 138. They are both excited to return to the LFA Octagon with the world watching on August 5th."

Farias (11-3) is on a short list when it comes to debating who is the most decorated BJJ practitioner to ever compete in MMA. The seven-time BJJ world champion was born into the world of combat sports in Manaus, the state capital of Amazonas in northwestern Brazil. At the age of 11, Farias signed on to ASLE, one of the top BJJ academies in the world. This is the same academy where UFC star Ronaldo "Jacare" Souza and LFA women's strawweight champion Jaqueline Amorim were developed prior to making the move to MMA. Farias lived and trained with Jacare for the next five years at the ASLE training camp. He would eventually make the move to Rio de Janeiro and has trained extensively with some of the biggest names in BJJ such as Ricardo Vieria, Rogerio Camões, Yuri Simoes, and Ramon Lemos. Farias has already competed twice under the LFA banner and is the owner of one of the flashiest submission wins of 2019 when he submitted Devante Sewell at LFA 71.

Tanaka (14-3) is one of the most revered fighters in Japan, which is the birthplace of several martial arts and home to one of the most knowledgeable MMA fanbases in the world. The world-class Japanese fighter is a native of Yokohama, which has been the host city to many legendary MMA events for PRIDE FC as well as the K-1 World Grand Prix Final in 2008. This made the transition to MMA a natural move for Tanaka, when he was a young judoka and made his MMA debut for Shooto in 2010. In fact, Tanaka won his first five fights for Shooto, where he won the 2011 rookie 132-pound tournament. After compiling a perfect 10-0 record, Tanaka signed with the UFC where he fought five times. Tanaka then earned two victories in Japan before signing with the LFA in 2020. The pandemic delayed his debut for the promotion, but the wait was well worth it as he defeated Ricardo Dias in the main event of LFA 117. He now looks to defeat another Brazilian star in the main event of LFA 138.