JCK MMA 2022 Week 13: Chenshenghui vs. Yibugele is an upcoming mixed martial arts event of the JCK 2022 Regular Season scheduled for July 30, 2022 at the JCK Arena in Haikou, Hainan, China.
Fight Card

Main Card (UFC Fight Pass)
Yibugele vs. Shenghui Chen 155 lbs
Shuai Yin vs. Zhipeng Liu 125 lbs
Akenbieke Ayijiake vs. Guoan Zhao 155 lbs
Xiongxiong Cai vs. Peng Li 125 lbs
Lunuo Yang vs. Kurbanjiang Tuluosibake 170 lbs
Burigede Alateng vs. Wuleiyifu 145 lbs
Hanapiya Shahaba vs. Jarfa Tsibekov 170 lbs
Alihede Bayibusheng vs. Mamuti Kutiman 155 lbs
Yisimayili Muhetaer vs. Tao Bai 135 lbs
Background
The thirteenth game of the JCK Zhanjuecheng 2022 season will be held in Haikou on July 30.
This time the headline main match is a lightweight match, Chen Shenghui against Yibugele.
The other lineups include: Yi Shuai, Liu Zhipeng, Ayijak Akimbek, Shahaba Hanapia, Zhao Guoan, etc.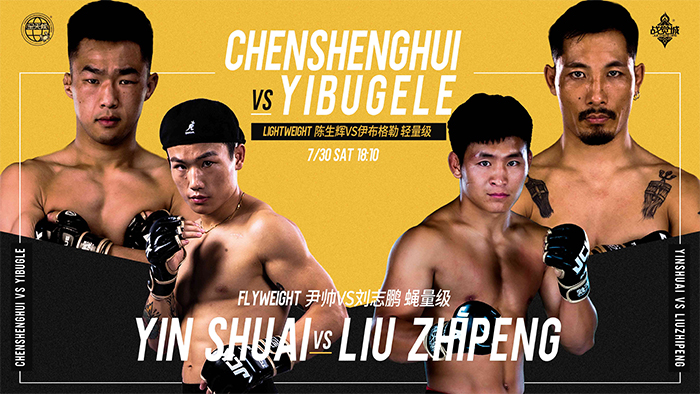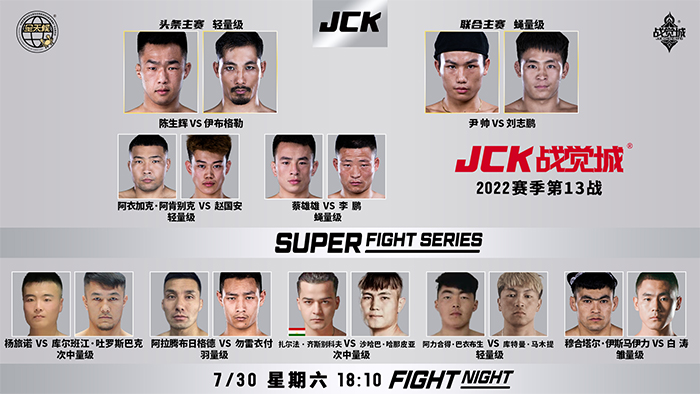 Jul 28 - Updated background (it's complicated with the spelling of the names, they are shown differently on different places, but I try to keep it somewhat understandable lol) and added poster