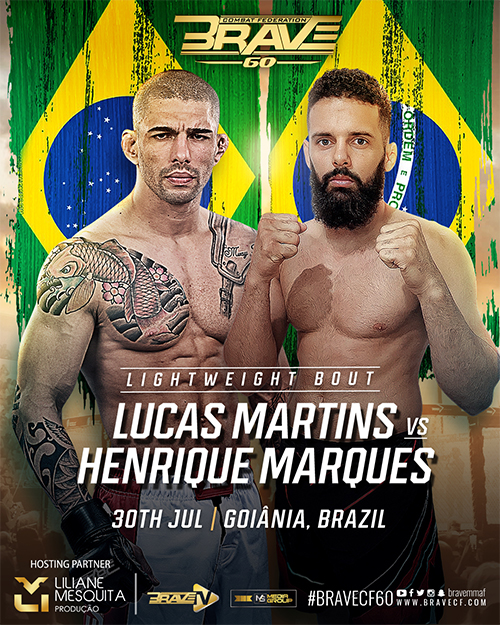 BRAVE CF 60: Martins vs. Marques will be a mixed martial arts event held by Brave Combat Federation on July 30, 2022 in Goiânia, Brazil.
Fight Card

Main Card
Lightweight 70 kg Brazil Lucas Martins vs. Brazil Henrique Marques
Super Lightweight 75 kg Brazil Luan Santiago vs. Moldova Mihail Kotruta
Super Lightweight 75 kg Brazil Leonardo Mafra vs. Brazil Cleiton Silva
Flyweight 57 kg United States Zach Makovsky vs. Kazakhstan Asu Almabayev
Flyweight 57 kg Brazil Flavio de Queiroz vs. Brazil Igor Taylon
Super Welterweight 79.5 kg Brazil Luis Felipe Dias vs. Brazil Luiz Cado
Flyweight 57 kg United States Sean Santella vs. Brazil Edilceu Alves
Bantamweight 61 kg South Africa Nkosi Ndebele vs. Colombia Eduardo Mora
Background
BRAVE CF 60, scheduled for July 30th, in Goiânia, will feature former world champion Lucas ''Mineiro'' Martins taking on local superstar Henrique Marques in a Lightweight bout.

Martins was scheduled to take on a fellow former titleholder in Amin Ayoub, but the Frenchman has been forced to pull out due to injury. ''Mineiro'' maintains his place at the top of the bill and now takes on Marques.

Lucas is in search of redemption after a couple of losses since he first became BRAVE CF champion. A staple of mixed martial arts in Brazil, he might not have the support of the crowd in Goiânia.

That's because he will be taking on a local star in Henrique, who is born and bred in Goiânia and will look for his international breakthrough following a respectable 8-1 start to his MMA career.

In the co-main event, another former Lightweight world champion will be in action as Luan ''Miau'' Santiago takes on Moldova's Mihail Cotruta in a Super Lightweight tilt. Also set for fight night are the much-anticipated returns of the likes of Asu Almabaev, Zach Makovsky, Leonardo Mafra, and more.